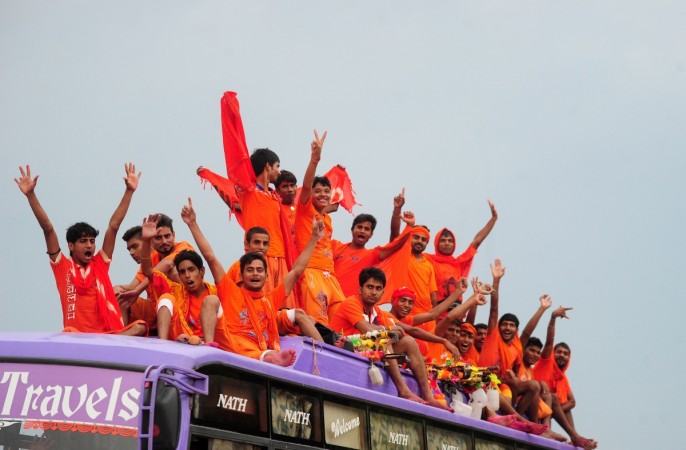 (Representational Image) (Getty Image by Sanjay Kanojia)
It seems like the Kanwariyas are in no mood to get rid of their shameful acts of hostility as another case of them beating up a man in Haryana's Gurugram has come to light.
A bunch of Kanwariyas, who are in their last leg of the annual Kanwar Yatra, allegedly thrashed a man after his cycle brushed past one of them in Pataudi's Chawan village on Wednesday, Aug 8, evening, Hindustan Times reported.
The Kanwariyas attacked the man with canes and sledgehammers and left him with critical injuries. The incident took place when a resident of Devla village was riding on his bicycle and hit the kanwar (pot) of one of the Kanwariyas. The pilgrims got agitated and attacked the man while they were ont heir way to a Shiva temple in Rewari.
According to Manesar police, the injured man had decided on not filing a police complaint agaisnt the attackers. "A police team was rushed to the spot and took control of the situation. The victim was taken to a local hospital for treatment, "Hindustan Times quoted DCP Rajesh Kumar as saying.
Following the incident a group of angry villagers gathered at the spot and started protesting agaisnt the hooliganism of the kanwariyas and demanded police action against the brutal culprits.
The Kanwariyas, known for their anti social activities and vandalism, have been in news for the last couple of days. They first made headlines after a video showing them vandalising a car in West Delhi's Moti Nagar went viral on the Internet leaving millenials angry and perturbed with their act of hooliganism.
In another incident in Uttar Pradesh's Bulandshahr, a bunch of Kanwariyas attacked a police vehicle and in both the cases, the police could not do anything to prevent them and watched as bystanders. However, in the Moti Nagar car vandalising case, the police has arrested one Kanwariya who is said to have a criminal background.
The arrested man was identified as Rahul aka Billa, a 26 year old resident of Uttam Nagar, who is said to be unemployed with no educational background. He had also been to jail before in a theft case, according the West Delhi police.
Kanwariyas are devotees of Lord Shiva who go for a special pilgrimage during the Hindu calendar month of Shravan. The pligrimage known as Kanwar Yatra is about going to various places along the holy river Ganges and carrying back the river water in canes to Shiva temples in the pligrims' own areas. They are dressed in saffron t-shirts and shorts and are often known for misbehaving and creating public nuisance.