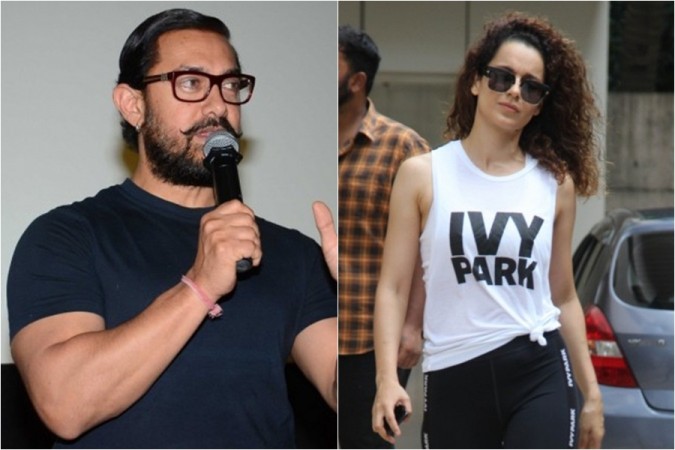 Kangana Ranaut may have irked a lot of filmmakers and leading actors with her meddlesome and self-willed attitude but it looks like she has managed to impress Aamir Khan who reportedly admires her for her guts to stand in crisis.
"Aamir says he sees a lot of himself in Kangana. She, in turn, feels empowered by his support. In fact, we will hear of a project featuring then very soon," a source was quoted as saying by Bollywood Hungama.
The report also mentioned that the mutual admiration between Aamir and Kangana is encouraging the latter to speak her mind without any fear of consequences.
It was being said that in 2008, Kangana was offered Ghajini opposite Aamir but she backed out of the project. Later, in 2014, she had clarified that she was never offered a leading role but a small role but even that role was given to someone else.
"I did not back out of 'Ghajini', I was never offered the role. There were some auditions going on and some team had called me for a small part, but later on they had taken someone else. I don't know if the news reached Mr Khan or he was aware about this," Kangana had told PTI.
It was reported that Aamir apparently had promised to work with Kangana in future because of the casting misfire in Ghajiini.
If sources are to be believed, Aamir and Kangana will soon be doing a film together. However, there is no official confirmation as of now.
Meanwhile, Kangana's growing interference has reportedly led filmmaker Ashwini Iyer Tiwari to draw a watertight no-interference contract for the Queen actress to ensure that she would not step into the director's domain.
On the other hand, Sonu Sood's sudden exit from Kangana Ranaut's Manikarnika: The Queen Of Jhansi has put the project in dire straits. The movie's budget, which was initially approved for Rs 60 crore, has now shot up to Rs 125 crore approx due to re-shoots and a series of production delays.