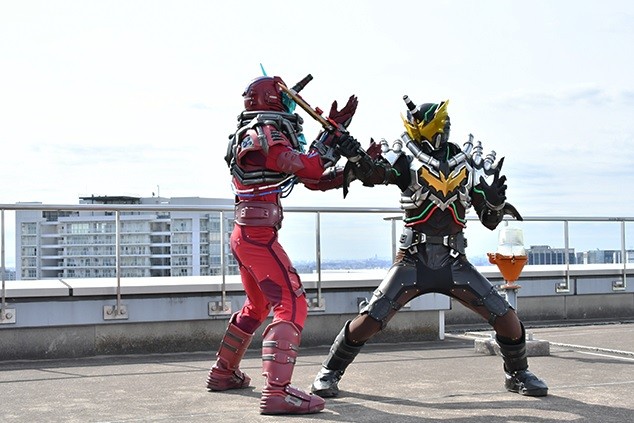 Kamen Rider Build will feature the final showdown between Sento Kiryu and Takumi Katsuragi. This chapter is titled Technology of Destruction and it is scheduled to air on TV Asahi this Sunday, November 12.
Check out the official synopsis for the upcoming episode below:
A tremendous strategy is underway at the Touto Institute of Advanced Matter Physics, where betrayal of scientists from within the organization begins to resurge! It's Faust's plan to steal the Pandora Box! The strategy is lead by Blood Stalk under the orders of Gentoku Himuro, the Assistant Prime Minister of Touto, as well as the leader of Faust as Night Rogue. Ryuga receives the call from Sento who heads out towards the laboratory, just when a Smash suddenly appears! Meanwhile, the words that were found behind in the laboratory struck deep within Sento: "Takumi Katsuragi is alive..." The assassin is still unidentified; however, Sento sets his focus on Blood Stalk for attempting to steal the Pandora Box...
Also read 'Boruto: Naruto the Movie' creator Masashi Kishimoto to introduce new character in next series
Meanwhile, the preview for Kamen Rider Build 10 features the first meeting between Sento Kiryu and Takumi Katsuragi. "You think you can beat me?" the devil scientist asks Sento.
The promo then shows Sento curiously asking the scientist, "Are you Katsuragi Takumi?" He replies: "I'm going to retrieve all of the bottles."
The preview also shows Ryuga Banjo and Misora Isurugi helping Sento Kiryu in his final battle with Takumi Katsuragi.
Watch the promo below:
Click here to watch Kamen Rider Build episode 10 live online on TV Asahi this Sunday.