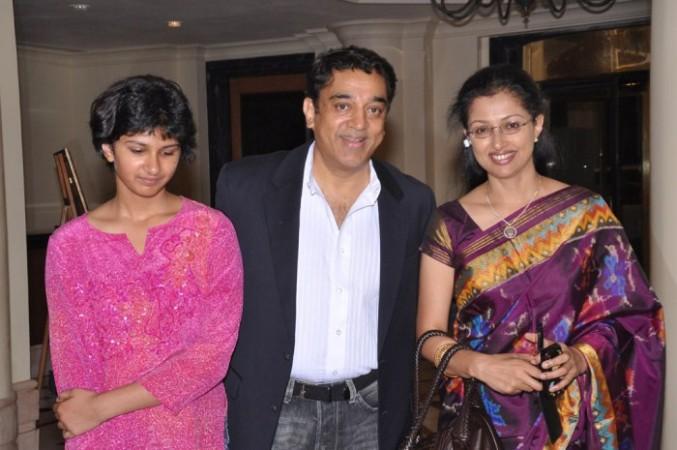 Superstar Kamal Hassan has opened up on his breakup from his long-time partner Gautami and wished a happy and comfortable life for actress Gautami and her daughter Subbulakshmi.
Kamal Hassan said that he is shattered by Gautami's decision to part ways from him, but he accepted it as he considered her comfort is more important than his feelings at the moment. "Whatever gives her comfort and solace is fine by me. My feelings at the moment are of no importance," the actor said in a statement to Deccan Chronicle.
"What matters is that Gautami and Subbu should be comfortable and happy. I wish them all the best and want them to know that I am there for them whenever they need me. I am blessed with three daughters Shruti, Akshara and Subbulakshmi. I consider myself the luckiest father in the world," Kamal Haasan added.
Gautami was married to businessman Sandeep Bhatia in 1998, and she has a daughter from this marriage, Subbalakshmi, born in 1999. She divorced Sandeep in 1999. Since 2005, she and actor Kamal Haasan have been in a live-in relationship. She shocked everyone by announcing her breakup with Kamal on Tuesday.
In her blog, Gautami confirmed that the growing differences between them was the reason for the split. A close friend of the couple says she took the decision. "There were differences growing between them. Gautamiji had made up her mind some time back. She wanted to leave to her own accommodation with her daughter Subbulakshmi," he said.
The friend also says that Kamal Haasan is heartbroken as he was deeply attached to Subbulakshmi. "It's a huge blow for Kamalji. He always regarded Subbu the same way as he did his own daughters Shruti and Akshara. And Subbu is deeply attached to Kamalji. He is shattered by their departure from his life," the friend adds.