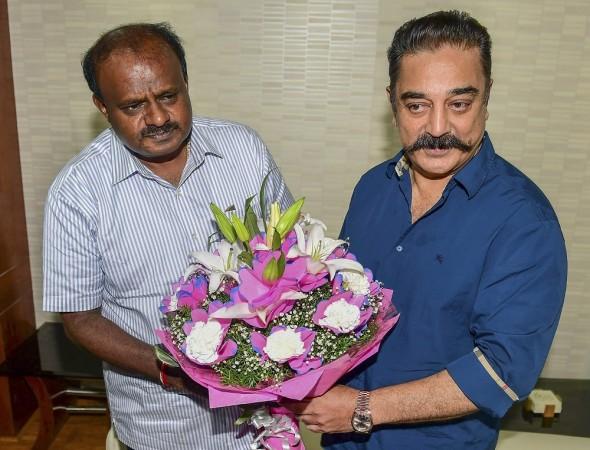 Prakash Raj, who has extended his support to Rajinikanth's Kaala over the release-issues that the movie is facing in Karnataka, has reminded Kamal Haasan about him seeking support from the public when his Vishwaroopam was banned by Tamil Nadu government in 2013. His response comes after the Ulayanayagan refused to take up the issue with Karnataka Chief Minister HD Kumaraswamy during his meeting on Monday, June 4.
"He has his own reasons to not raise the issue but he should also realise that when his film Vishwaroopam was banned, he wanted the entire world to stand by him. But I feel it is my responsibility and we cannot let this happen to any film," Prakash Raj was quoted as saying by News18.
Owing to Rajinikanth's stand on the formation of Cauvery Management Board, the pro-Kannada groups have threatened to stall the release of Kaala in Karnataka. The distributor, who had acquired the rights of the film, has backed out of releasing the flick to support the ban call given by the Kannada outfits.
However, Kamal Haasan has been slammed by the fans of Rajinikanth for speaking passively about the Kaala issue. The Tamil superstar had extended his support towards the Ulaganayagan when his Vishwaroopam was banned by then J Jayalalithaa government.
Prakash Raj has not only extended his support to Kaala but has demanded the Karnataka government to ensure a trouble-free release of the Tamil flick.
"An elected GOVERNMENT can not shun its DUTY by saying we have not BANNED the film IT should ENSURE CITZENS RIGHT of CHOICE..and not SUCCUMB to fringe groups taking LAW into their hands and BAN a film. WHO IS GOVERNING HERE .the one we ELECT or the one who THREATENS..#JustAsking. [sic] He tweeted.
The Tamil Nadu government had banned Vishwaroopam citing the law and order issue over the ban after fringe groups threatened to disrupt the screening. It was later lifted by the court.
Rajinikanth's Kaala is releasing on June 7 and the movie has shown no signs of hitting the screens in Karnataka.
Meanwhile, the makers of Kaala, which is directed by Pa Ranjith, have approached the Karnataka High Court seeking the release of the flick in the state.