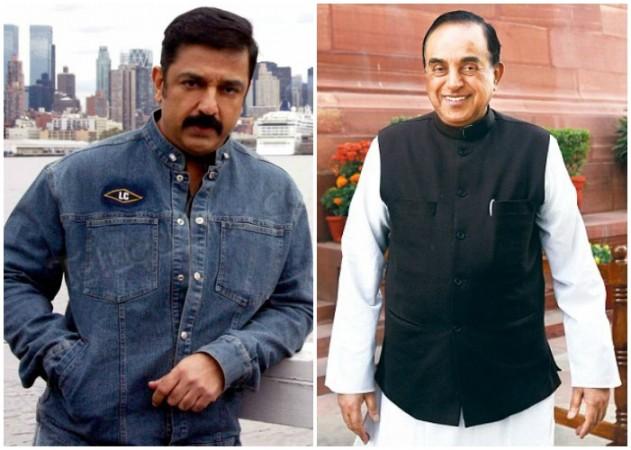 Ulaganayagan Kamal Haasan (Hassan) has given a fitting reply to BJP leader Subramanian Swamy, who called the actor foolish. The Tamil actor says that he does want to answer the politician's insinuations.
Kamal Haasan had condemned the Tamil Nadu police for lathicharging the silent Jallikattu protesters at Marina beach and said Tamil Nadu Chief Minister O Panneerselvam should have met the protesters. However, his observation did not go down well with controversial BJP leader Subramanian Swamy, who tweeted and ridiculed the actor calling his act "foolish."
Subramanian Swamy said that the Tamil Nadu chief minister tried to meet the protesters in Madurai, but he was not allowed to. The BJP leader tweeted: "How foolish for cinemawallah Kamalhasan to suggest that CM should have met the demonstrators. CM tried in Madurai and what happened?"
In reply to Subramanian Swamy, Kamal Haasan wrote: "Hi Samy.AmTamilwallah. CM should have met his people. Politicians includ. MKG. Ceasars humble b4 people .why not CM.Tag it2him frnds. He added: "Decided not 2 answer samis insinuations.Take over T.porikkis u R in g8 company.Kamraj Anna Rajaji my father & more மோதி மதித்து விடு பாப்பா"
Continuing his rant, Subramanian Swamy condemned the protests and defended the CM. He wrote: "Porkis dared me to come to Marina.Lord Shiva sent police and porkis ran away howling aiyo aiyo. Now porkis say come to TN. Shiva to decide." He added: "CM OP did 3 good things:1.Stop Jallikattu being held as per SC orders 2. Pass in TNLA the Amending Bill 3. Order police crackdown on Porkis."
This morning, Subramanian Swamy further wrote: "To recognise a porki: He/she must be 1.semi or fully illiterate 2.speak or tweet in vulgar language 3.Cannot argue 4.Threaten violence& run."
However in a series of tweets on Monday, Kamal Haasan had requested the protesters to stay calm. The actor had tweeted: "None can take away your rights. Pls. stay calm. The highest office in the country is watching & will talk in your favour soon. Maintain calm. A looming question. When the students were calmly waiting to see what decision the assembly takes , Why preempt with police action ?"
"Spoke to the Honrbl.CM of TN. The looming question has been asked of him. He will answer soon. They're eager to satisfy you. Stay calm. Have informed our Honrbl.PM through the best of my connections. The Honrbl. Justice seekers will have to maintain peace.
"My request to the police minister.Stop harrassing peacful protesters of TN and Marina.Let the CM offer solutions arrived upon @ the assembly. Its ur choice Aninsa or Direct action. Im for peace .B warned not only Tamilians humans r prone 2 violence. Think politicians & people I beg."