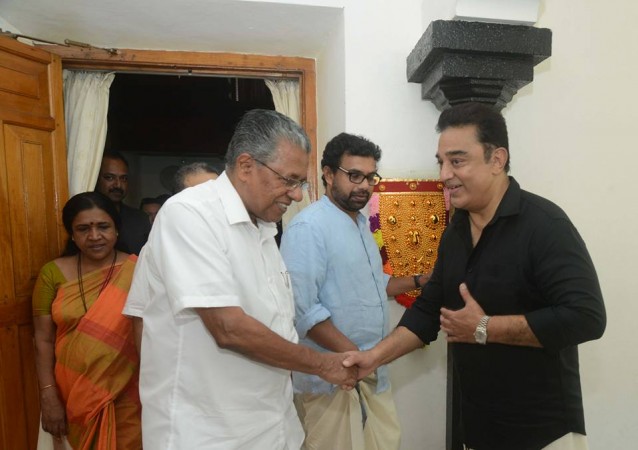 Kamal Haasan has repeatedly showered his praises on Kerala of late and he has said good words about its governance once again.
He has hailed a circular that gives the liberty to leave the column of religion empty in Kerala. Kamal Haasan tweeted, "Bravo again Kerala Govt. Your circular is historic. Iv'e refused filling caste and religeon columns in my daughter's birth certificate. My daughters decided after they were 21. Shruti has chosen to be Hindu. Akshara might stay without caste or religeon. [sic]"
His post also reveals that Kamal Haasan, who considers himself as a rationalist, has not imposed his beliefs on religion on his daughters – Shruti and Akshara – and have given freedom to follow their faiths.
Apparently, it is a 1974 circular and Kamal Haasan assumed it to be the latest initiative taken by the Pinarayi Vijayan government in Kerala.
In the last several months, Kamal Haasan has praised Kerala on numerous of occasions. He also had a lunch with Pinarayi Vijayan. "Look at the statistics of Kerala, look at where the state stands...we get a 50th of the funds compared to any Western country, but it still stands up to those countries," Kamal Haasan was quoted as saying after meeting with the Chief Minister of the God's Own Country.
The Tamil actor had also welcomed the appointment of non-Brahmin priests by the Travancore Devaswom Board in Kerala. "Bravo Travancore Dewasom board. Salute to Kerala CM Mr. Pinarayi Vijayan.4 appointing 36 non-Brahmin priests. Periar's dream realized, [sic]" he had written on Twitter.