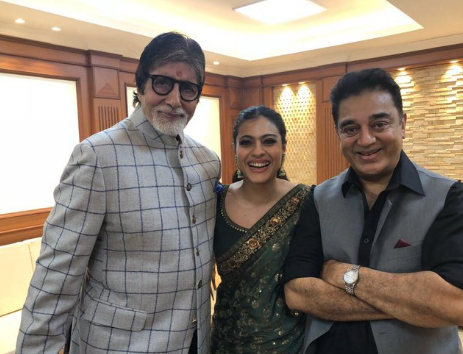 Several Bollywood celebrities, like Amitabh Bachchan, Shah Rukh Khan, Kajol and Kamal Hassan, graced the ongoing Kolkata International Film Festival.
Kajol shared a picture from the event on her social media with Amitabh Bachchan and Kamal Hassan. She captioned the picture: "Selfie time with two legends ..... couldn't resist [sic]."
But this caption did not get down well with her followers, and fans started trolling her. Why? Because it was a normal picture and not a selfie.
Now Kamal Haasan has come out in support of Kajol. He wrote on Twitter: "Please spare Kajolji. I am not a fan of selfies. Though I am a fan of them both. Troll not a kind gesture. [sic]"
That's a very kind gesture Haasan. Hope the trolls understand this. On a second thought, why hasn't Amitabh Bachchan said anything on this?
Director Mahesh Bhatt, singer Kumar Sanu and West Bengal Chief Minister Mamata Banerjee were also present at the event.
"I have promised that I will keep on learning Bangla. My Bengali has to get better. This is my new attempt with eight lines. Please bear with me. Let me get this right because by next year I have to do it without reading it off a paper," Shah Rukh said while co-hosting the KIFF inaugural function.
The festival will screen 143 films spanning 53 countries under 16 different categories till November 17. A total of 93 foreign language films will be showcased throughout the festival, besides 50 from India. The films would be screened across 12 venues in the city.