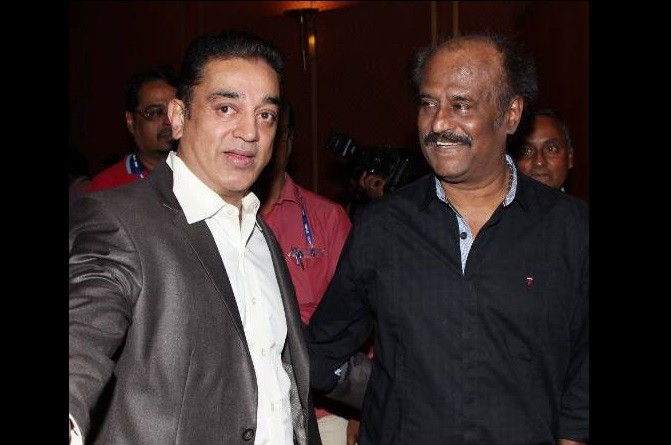 Superstar Kamal Haasan has opened up on his 'secret' meeting with superstar Rajinikanth and clarified that it had nothing to do with politics. "Only time will tell" about a possible alliance with Rajini's party, he said after the meeting on Sunday (February 18) that triggered a lot of speculations in the political circles.
Kamal Haasan visited superstar Rajinikanth at his Poes Garden residence in Chennai on Sunday amid rumors that the two superstars may look for ways to team up in politics.
Both Kamal Haasan and Rajinikanth are set to launch their own political parties and contest in the next Assembly elections in Tamil Nadu. Their fans are early waiting to hear more details about their plans. Of late, it was speculated that both the superstars will enter an alliance, but Kamal had denied the rumors.
But Kamal Haasan has refuted the rumors saying that it was just a friendly meeting before he kick-started his political campaign tour. "It is a courtesy call and not a political meet. I met him and told him about my decision. I am meeting people I like before I begin my journey. Meeting him is part of friendship, not about politics," the News Minute quoted Kamal as saying.
Kamal Haasan said that Rajinikanth wished all success for his tour. Talking about the alliance with Rajini, the actor said: "Only time will tell about us joining hands. The opportunity might come to meet national leaders in the future."
Meanwhile, Rajinikanth also responded to the rumors about their meeting. "Kamal wants to serve the people of Tamil Nadu. I will pray to god that he will attain success," said the superstar. He also dismissed joining hands with Kamal. "My style and his are different even in movies," added Rajini.
"We can exist as friends be on one side. But polity is different. I am trying to make a difference to my state. Our general intent may be the good of the people. But I believe that there is a certain way in which good will have to come to the people," Kamal had told during his recent visit to Harvard University.