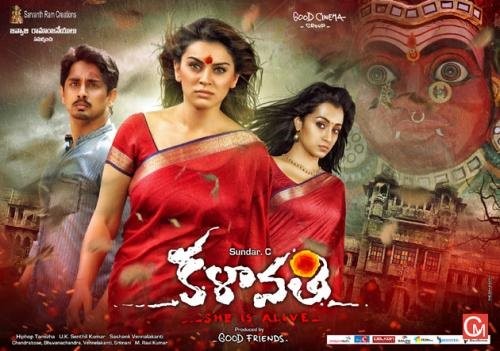 Siddharth, Trisha and Hansika's much-talked-about film "Kalavathi", the dubbed version of the Tamil movie "Aranmanai 2", has received positive reviews from the Telugu audience.
Check: Aranmanai 2 Review | 5 Reasons to Watch Kalavathi | Audio Launch Photos

The 2014 Tamil comedy horror film "Aranmanai" was a big success, both critically and commercially. Sundar C, who wrote and directed the film, is now back with a sequel, titled "Aranmanai 2". Sundar C has written story and screenplay for the new movie, while Venkat Raghavan has penned the dialogues. This film has been dubbed and released in Telugu as "Kalavathi", alongside the original.
Siddharth plays the son of a landlord (Radha Ravi) who is hospitalised. He enters his palatial house with his fiancée (Trisha). But mysterious happenings land him in jail for a crime he did not commit. His fiancée's brother (Sundar C) enters the scene to crack the mystery. What happens next forms the crux of the story.
The audience say "Kalavathi" has an interesting story and engaging screenplay, loaded with lots of horror and comic elements. Some scenes in the first half make the film an edge-on-the-seat thriller. The second half is superb with hilarious comic scenes. The movie is another good horror-comedy after "Ganga".
Lead actors Siddharth, Trisha and Hansika Motwani have develivered superb performances. Along with the script, their performances are highlights of "Kalavathi". Others, like Sundar C, Soori, Kovai Sarala and Manobala, have done their best and are also good attractions, say the audience.
"Kalavathi" has brilliant production elements. Hiphop Tamizha's background score and UK Senthil Kumar's cinematography are the big draws in the technical front, the viewers say in their verdict shared on Twitter. Here is the live update of the "Kalavathi" movie review by the audience:
RJV ‏@RJV4U
#Kalavathi is good in parts..Overall a one time watchable Horror comedy mixture same in the lines of Kanchana & Ganga
Sabiha ‏@chunia0325
#Kalavathi I totally agree... Was into splits the whole of second half.... Laughed so much after a long time!!!
Sripal 168 ✨ ‏@cinemirchi
#kalvathi onther hit ....sundar C hilarious comedy & horrer superb movie @bajwa_poonam #Kalavathi simple superb second half hilarious comedy @ihansika @Actor_Siddharth @trishtrashers @bajwa_poonam
Elurucnu-Kalavathi ‏@elurucnu
#khalaavathi super entertainer and thrill horror film... #Khalaavathi is the 1st horror blockbuster in 2016*† #‎khalaavathi is superb comedy in 2nd half, very good thrill with horror, sunder.c sir taking and screenplay simply superb final episode terrific. Congrats to unit
Vidhatha ‏@Vidhaatha
#Kalavathi is an emotional horror thriller. @ihansika acted with great ease and intensity. The second hour is thrilling. Go watch it Congrats @SKNonline @elurucnu @shreyasmedia @ihansika @khushsundar A paisa vasool entertainer #Kalavati