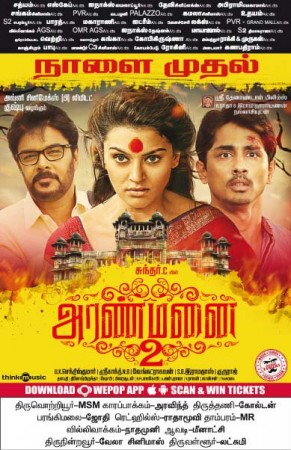 Sundar C directorial "Aranmanai 2" has garnered fairly positive reviews from the cine-goers and critics. Indeed, it has turned out to be a complete entertainer, which is tailor-made for the family audience.
5 Reasons to Watch Aranmanai 2 | Irudhi Suttru Movie Review
The success of "Aranmanai" paved way for its sequel. But the latest film is not a continuation of the first instalment. Siddharth, Trisha Krishnan and Hansika Motwani, who was the main lead in "Aranmanai", are starring in the film. Director Sundar C will be doing an important role. D Poonam Bajwa has a key role in the flick with Vaibhav Reddy, Soori, Kovai Sarala, Manobala, Raj Kapoor and others are in the supporting roles.
The film has Hiphop Tamizha's music with "Party with the Pei" and "Poraada Poraada" becoming chartbusters. UK Senthil Kumar has handled the cinematography while NB Srikanth has edited the movie.
The second instalment is much bigger than its predecessor in terms of budget and cast. It became evident after the team erected Asia's largest statue of goddess Amman (103 feet) for the climax of the film, thereby entering the Limca Book of Records.
"Aranmanai 2" is a horror film laced with lots of humour. The film is set in a palatial mansion, haunted by a ghost. A big family in a rural place starts witnessing mysterious things happening around them and soon they realise they are in a serious trouble. Sundar C as Trisha's brother enters the scene to solve the issue.
Average Ratings Given by Audience: 3
Reviews:
The audience have throughly enjoyed "Aranmanai 2" even though the film lacks chilling moments. The comedy sequences make up for all the drawbacks in the predictable story with second half coming in for full praise for a good mix of horror and comedy. Performance wise, Hansika Motwani steals the show, Trisha Krishnan and Sundar C have done good job but Siddharth has less scope to display his talent. Soori, Kovai Sarala and other supporting characters have played their parts well. Below, we bring you audience review for "Aranmanai 2".
Common Man Sathish posted: #Aranamanai2 - @trishtrashers costumes will make the youngsters go crazy & she has given her best during pre-climax scenes
@ihansika - Her best performance till date was #Aranmanai & she gives her best now in #Aranmanai2
Nice to see @khushsundar in big screen for #Amman Song in the climax #Aranmanai2
#Aranmanai2 - @ihansika flash back scenes have come out much better than #Aranmanai. Ladies will love Hansika much more after watching it
TFU Kannan posted: #Aranmanai2 - Director Sundar.C has just reworked his formula again & succeeded to quite an extent with right commercial touch as usual.
#Aranmanai2 - Leading ladies #Trisha & #Hansika played their part well. #Soori quite good & made this film sail thru & others just adequate!
#Aranmanai2 - Template horror comedy with huge star casting & grand sets, hardly scares but the fun part makes it worthwhile! (6/10)
Half way thru #Aranmanai2. Not bad so far! Typical #SundarC stuff but better than his last film!!
Raisa Nasreen posted: Trisha vandutanga ya. Camera man velaiya arambichutaru. Trisha you want a shrug with buttons? You should've asked me. You keep removing it and putting it back on in the song. Hansika is here! Finally, the film will kickstart now. #Aranmanai2
Sundar C takes the template of the 80s packages it and it sells. The audience like it. How does he do it? #Aranmanai2
Surendhar MK wrote: #Aranmanai2: Except for a 20 minute stretch of comedy in the second half, there's nothing to root for in the film.
#Aranmanai2: Not even a single scene comes under the 'horror' tag. Comedy is the only thing that works, occasionally. And, the skinshow.
#Aranmanai2: Surprisingly, Sundar C, a master at showcasing stomach-turning frames of his heroines, doesn't hit rock-bottom this time.
Dinesh wrote: #Aranmanai2 interval - Nothing much. On the same lines of #Aranmanai with commercial elements that will attract family.
#Aranmanai2 interval - Glamour is superbly covered within the script. It's neither too much nor too less. Both Trisha & Poonam are alluring.
Rajesh wrote: @trishtrashers #Aranmanai2 / #Kalavathi is sure shot commercial hit It's a pure family entertainer Go and watch it in Theaters.
@trishtrashers #aranmanai2 Movie Highlights : Trisha beach song and her devilistic performance Second Half is total amazimg
Prashanth ‏posted: #Aranmanai2 - intellectual s may not like it. But the families are loving , clapping and enjoying. Sure shot success !!
Done watching #Aranmanai2 - Sundar C once again proves that he is one of the most successful directors . pakka entertainer.
#Aranmanai2 interval - Feeling the absense of santhanam. Pretty racy so far.