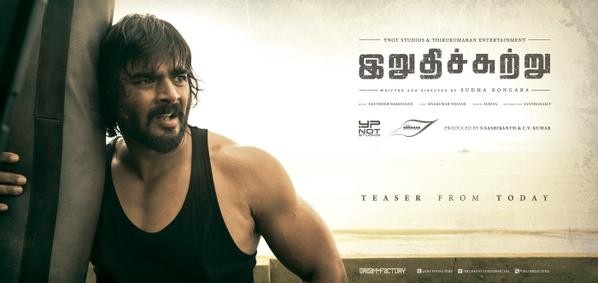 "Irudhi Suttru", which was released on Friday, 29 January, has opened to highly positive reviews from the Tamil audience and critics. People have praised Madhavan and Ritika Singh's performance in the flick.
Celebs at 'Irudhi Suttru' audio launch | Aranmanai 2 Review
Madhavan is returning to Kollywood after a gap of four years with "Irudhi Suttru", which has been simultaneously made in Hindi as "Saala Khadoos". It is written and directed by Sudha Kongara Prasad.
"Irudhi Suttru" is a sports-drama, which also has Ritika Singh, Mumtaz Sorcar, Nassar, Radha Ravi, Kaali Venkat and others in the cast. The film has Santhosh Narayanan's music, Sivakumar Vijayan's cinematography and Sathish Suriya's editing.
The movie narrates the story of two boxers who come together on a dream of winning a gold for India in boxing. Prabhu Selvaraj (Madhavan) has a painful past where his own men cheat him from accomplishing his goal of winning the gold medal.
Prabhu's dream gets a new lease of life after he turns a coach and discovers the talent in Madhi, a fiery young woman played by Ritika Singh. Their journey towards the impossible task and whether their uncompromising attitude and straight forwardness help them in their path form the crux of the story.
Average ratings given by audience: 3.5
Reviews:
Here, we bring you the audience response to the film:
Rajasekar tweeted: #IrudhiSuttru - Sudha Kongra has made a trendsetting film. The climax will melt even a stone heart- emotional rollercoaster
#IrudhiSuttru - @Music_Santhosh is another hero of the film. Brilliant bgm and songs :)
#IrudhiSuttru - the energy level of @ritika_offl is unmatchable. The film belongs to her. Wow what a matured performance by @ActorMadhavan
#IruthiSuttru is one of the finest boxing films ever made in India. @ritika_offl and @ActorMadhavan steal the show
Haricharan Pudipeddi ‏posted: Loved #IrudhiSuttru. A no-nonsense boxing drama packed with solid performances. While #Madhavan was great, this is Ritika Singh's show
Sreedhar Pillai wrote: #IrudhiSuttru 3.5/5 Terrific. A knockout punch delivered by @ActorMadhavan , whatta performance backed by #SudhaKongara's packaging
#IrudhiSuttru 3.5/5. Downside , the predictability of the story and bit slow in the 1st half. Still racy under 2 hours, worth a look.
#IrudhiSuttru 3.5/5. @Music_Santhosh a major highlight, especially climax BGM.
#IrudhiSuttru 3.5/5. #Zakir lives the role of dirty sports administrator to the hilt. @nasser_kameela astounding performance .
#IrudhiSuttru 3.5/5. @ActorMadhavan has great supporting cast, that raises the bar. #RitikaSingh simply awesome, with the perfect lip sync
#IrudhiSuttru 3.5/5. Story wise nothing new, the underdog triumphing against all odds in a boxing film. Liked Sudha's deft handling & actors
Ramesh wrote: Watching #IrudhiSuttru
#IrudhiSuttru [3.75/5]: Dir #SudhaKongara has written a crispy script.. Extracted top notch work from cast and crew.. Well done! Don't miss
#IrudhiSuttru [3.75/5] @Music_Santhosh shows once again his musical genius in songs & BGM.. DOP #SivakumarVijayan & Editor #SathishSuriya A+
#IrudhiSuttru [3.75/5]: @ritika_offl delivers a Tour de force debut performance that will be talked abt for a long time.. #Nasser Top notch
#IrudhiSuttru [3.75/5]: @ActorMadhavan makes an impressive comeback to Tamil after a gap of 3 years.. Astounding transformation & acting..
#IrudhiSuttru [3.75/5]: A Solid, Multi-layered Boxing drama that takes an interesting look at our sports system with a personal touch..
Sidhu ‏posted: #IrudhiSuttru Interval: Bloody brilliant first half. Loud, intense and on-the-face. Maddy is amazing, and so is the tsunami in Ritika Singh.
#IrudhiSuttru: Solid, sturdy knockout. Sudha Kongara presents a riveting boxing drama which keeps you pinned on the whole. Book your seat.
#IrudhiSuttru: This is Madhavan's best performance by a mile, something never seen before. Ritika Singh, too good being a debutant.
Surendhar MK posted: #IrudhiSuttru: @ActorMadhavan's best ever portrayal. Full credits to RitikaSingh for her sterling performance. GO WATCH.
#IrudhiSuttru:@ritika_offl's flawless lip sync is something Tamil actresses should learn. She emotes fabulously & packs a punch in her act.
Rinku Gupta ‏posted: #IRUDHISUTTRU Jus fabulous! Media claps at end of show ! Whatte find @ritika_offl! Most memorabrole role @ActorMadhavan.take a bow #Sudha!
Abhishek .a.b posted: #IrudhiSuttru congo sudha mam for a ausum movie. Women power. should get nationwide recognition. One of the best boxing movies made
#IrudhiSuttru @ritika_offl performance.. Perfect lipsync perfect performance. Lived the character of madhi.climax gave us happy tears
#IrudhiSuttru maann @ActorMadhavan kalakkiteenga.. Really proud of you. Almost everyone clapped and were happy in climax .. Kudos sir
Ck Mohammed ‏posted: #IrudhiSuttru : Finest making, brilliant casting & racy screenplay. Top notch BG Score by @Music_Santhosh, @ActorMadhavan is a ruthless lion
Bharathnt Tweeted: #IrudhiSuttru engaging & entertaining. Congrats Sudha & @Dhananjayang. With apt casting, gud cinematography and nice BGM, it is a winner.
#IrudhiSuttru. Well-made gripping & crisp sports movie. Story of an underdog emerging winner. @ActorMadhavan a delight to watch onscreen.
Kaushik LM ‏tweeted: #IrudhiSuttru 1st half - brilliant casting & splendid #SanthoshNarayanan. #Madhavan is a ruthless lion on screen. Ritika Singh what a find!!
#IrudhiSuttru -Bonding between master - protégé is the spine, with boxing being the blood. @ActorMadhavan #RitikaSingh will stay on for long
#IrudhiSuttru -Genghis Khan touch in the climax takes it to a different level. Very good sports drama. Take a bow @ActorMadhavan, Sudha & co
Prashanth posted: No girl other than @ritika_offl could have done the #IrudhiSuttru role. Blood and sweat literally throughout the movie!!
#IrudhiSuttru Interval @ActorMadhavan gets into character well.@ritika_offl terrific as stubborn boxer.Lipsync,dance,acting perfect
Mani Vaithiyanathan ‏tweeted: Watched your movie #IrudhiSuttru it is a treat for ur fans @ActorMadhavan :) mesmerizing background score..Lovely screenplay..Sure success!