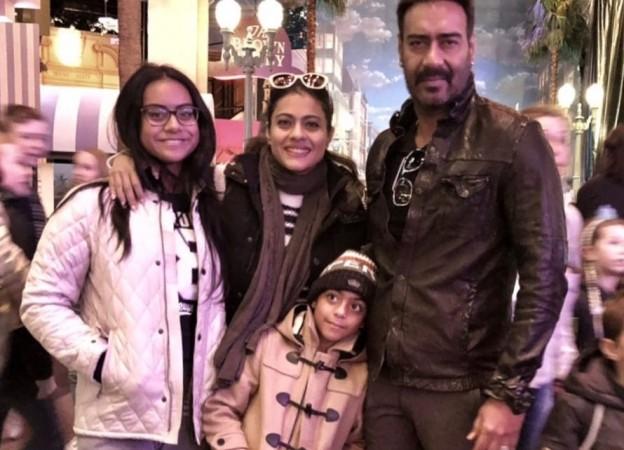 It is Nysa Devgn's birthday and mom Kajol is showering all love on her 15-year-old on her special day. As Nysa turned 15, Kajol took to Instagram to wish her sunshine and shared a throwback picture of her daughter in which she was seen holding a teddy in her arms and flashing her million dollar smile to the camera.
"From crayons and teddy bears to a young lady. Happy birthday to my smart ,beautiful , brave , cuteness overload and seriously humbling daughter Nysa . May the sun shine out of your eyes always and may you always walk in," Kajol wrote while wishing her daughter on her 15th birthday.
In the morning, Kajol shared a post on Twitter where she mentioned that you need a daughter if you want to know the true meaning of women empowerment.
"If u want true women's empowerment.... have a daughter. There is nothing that breaks through cultural biases, preconceived notions, childhood conditioning etc faster than your own child! Happy happy birthday to my own little breakthrough Nysa," Kajol tweeted.
Ajay also took to Instagram to thank his fans for sending warm birthday wishes to his daughter.
When Ajay was recently asked whether his daughter Nysa will follow his footsteps and enter into Bollywood, he told a leading daily, "No. She doesn't talk about films at all. She is studying in Singapore and she is very happy. Though she keeps talking about what she wants to do in life, right now films do not interest her. It's honestly, her choice. And I respect that."
A few days ago, Kajol and Ajay Devgn along with their children Nysa and Yug had flown to Paris to celebrate the Singham actor's 49th birthday April 2.
Kajol and Ajay Devgn, who married in February 1999, welcomed their first child Nysa in April 2003. Their son Yug was born in September 2010, seven years after Nysa's birth.