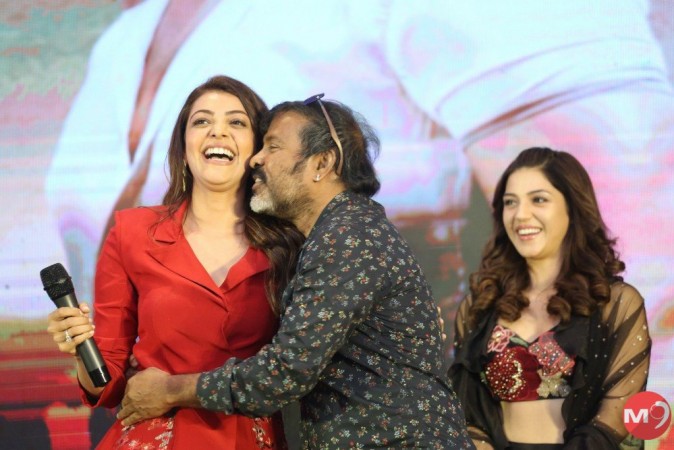 Starring Bellamkonda Srinivas, Kajal Agarwal, and Mehreen Pirzada, upcoming action drama Kavacham is all set for for its release soon.
The makers of Kavacham had arranged an event to unveil the teaser of the movie yesterday. The event was attended by the movie's cast and crew. Bellamkonda Srinivas, Mehreen Pirzada, Kajal Agarwal, director Sreenivas Mamilla, Music Composer SS Thaman, and other crew members were present in the event.
The event was a huge success, except an awkward moment, which made heroine Kajal Agarwal embarrassed.
During the press meet, Kajal Agarwal was seen sharing her experiences working with team Kavacham. She had conveyed her thoughts on each unit member, while she also spoke about the famous cinematographer Chota K Naidu.
As Kajal Agarwal took his name, Chota K Naidu headed to her and it all appeared like he would embrace her in a normal way. To everyone's shock, Chota K Naidu kissed Kajal Agarwal after which she was left shocked for a couple of seconds.
Though Kajal Agarwal tried to cover it up, by uttering some jovial words after that, it was quite visible that she was perplexed with this sudden activity. Even other people on the dais were utterly shocked after Chota K Naidu behaved this way.
Kajal Agarwal also told "Chance Pe Dance", as she tried to act normally after she was kissed by him. It is indeed, an awkward moment for any lady to be kissed without permission, that too in such a big event.
Well, there is a huge wave of negativity on Twitter regarding this incident. Kajal Agarwal's fans were seen trending a hashtag #BanChotaKNaidu.
Some social media users went forward and dug into Chota K Naidu's previous interviews, which were as creepy as this incident which took place yesterday during Kavacham event.
@MsKajalAggarwal A person like Chota can never be family! The act was disgusting and plain vulgar! #ChotaKNaidu has fallen to be real small!! But you were dignified..but should have given it back!

— Kriish Madhav☝️ (@KriishMadhav) November 12, 2018