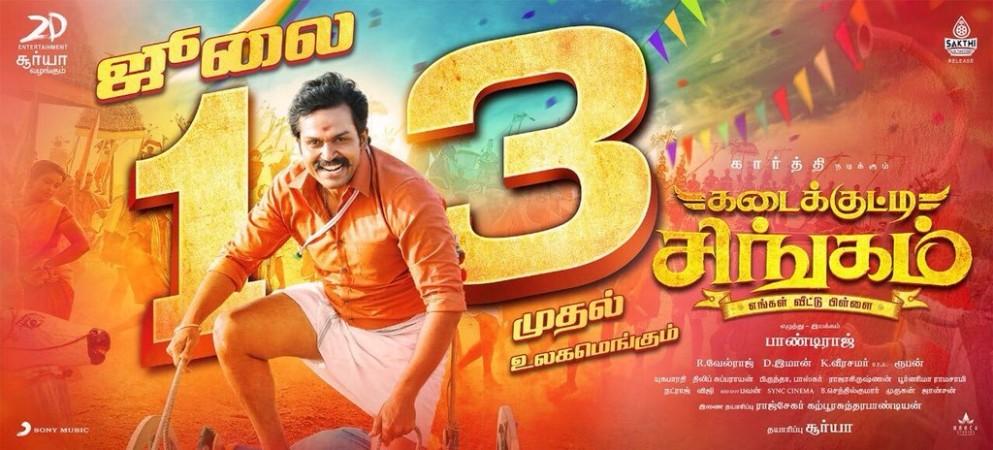 Karthi has collaborated with Pandiraj for Kadaikutty Singam, which is a rural-based action-comedy entertainer. Veteran actor Sathyaraj plays an important character in the Tamil flick in which Sayyeshaa will be seen in the female lead role.
Priya Bhavani Shankar, Bhanupriya, Ponvannan, Soundararaja and others are in the supporting cast. While Velraj has handled the cinematography department, Velraj has edited Kadaikutty Singam. D Imman has composed the music and Sandakkari song and Kaalai theme track have struck the chord with the music lovers.
Kadaikutty Singam Story
Ranasingam (Sathyaraj) wants to have a male child and he has four daughters from his two wifes played by Viji Chandrasekhar and Bhanupriya. Surprisingly, his wife first gives birth to a boy and names him Thunaisingam (Karthi).
His family members want Thunaisingam to marry one of his two cousins, but he falls in love with Kannukiniyal (Sayyeshaa). What follows next is the interesting part of the story.
The movie deals with farming, agriculture apart from stressing over the traditional family values that exist in our villages. Kadai Kutty Singam tries to highlight the importance of family values and conveys money cannot replace the wealth of good relationships.
Analysis
Kadaikutty Singam has a good story set in the rural backdrop. Karthi impresses the viewers in his dhoti-clad avatars and natural acting during emotional scene get full marks. Pandiraj's message-oriented dialogues and D Imman's background score are other highlights. But melodrama doesn't work in the film. Overall, it is a well-made family entertainer, say the viewers. Below, read the audience's response:
Manobala Vijayan: #KadaikuttySingam 3/5: Family Watch. @pandiraj_dir has given a rural entertainer with farming, caste & sentiments as a base. @Karthi_offl - @sayyeshaa makes a good pair. Soori comedy is a highlight. Fab BGM by @immancomposer.
Cine Express: #KadaiKuttySingam - 3.25/5
Both @Priya_BSankar & @ArthanaBinu Has Performed Well In Sentiment portions . @pandiraj_dir Has Scripted each character well & it becomes a Pakka family entertainer !
Go & Watch it With Ur Family Sure U Will Love The Movie ...
@sooriofficial 's Comedy Clicks in All parts after a long time its a best one for him , too many Laugh Riot Counters . @Suriya_offl 's Cameo Gets A Huge Applause . #Sathyaraj As Always Stunned with his performance .
. @Karthi_Offl Has Lived The Character Of A Farmer. Each & Every Dialogue About Farming Gets A Goosebumps . @sayyeshaa Has Proved That She Can Do Any Type Of Role The Urban & Rural . She Has Matched Well The Rural Character
VCD: #KadaikuttySingam First Half - There is a typical #Pandiraj style preaching at regular intervals. But a needed topic to handle in today's trend. The conflict and the activities of few relations seems to be predictable. #Soori's comedy works well and provides good comical relief.
Sathish Kumar M: #KadaikuttySingam Justification of the movie title is done during the title credits with #Sathyaraj & joint family intro.
@Karthi_Offl intro with rekla race scene has come out well.Can see the huge production values of @Suriya_offl @2D_ENTPVTLTD
#Soori comedy works.
#KKS
Rajasekar: If I'm not wrong, after @realsarathkumar 's #Ayya (2005), #KadaikuttySingam is the proper village family drama that has come in Tamil cinema, here the family is even bigger. @Karthi_Offl' s exemplary performance and the ensemble of actors are the major highlights!
Christopher Kanagaraj: #KadaikuttySingam - Rural Family movie(avg) after a long gap. Huge star cast, Pandiraj has managed d crowd well. Karthi is apt,Sayeesha doesnt suit, Arthana s gud, PBS dummy. Soori's comedy works at parts. Gud songs, dialogues. Startg & pre-climax 15 mins seq r gud. Mega serial!
Riyaz A: #KadaikuttySingam - Seriously After Very Very Long A Real Perfect Family Entertainment Movie
Congrats to @Karthi_Offl sir @pandiraj_dir sir @soundar4uall machi & @sakthivelan_b bro
Venkatramanan: #KadaikuttySingam -
Good content family drama executed with commercial notes ensuring the entertainment. Neat theatrical movie experience. Personally loving this !!
Prashanth Rangaswamy: #KadaikuttySingam - If you lived/living in a Joint family, if u lived / living in a small town with all your cousins - You will cry atleast once during the second half. But -Not all are impressed with the sentiment, most are !! An agmark family entertainer after a long long time!
Sathish Kumar M: #KadaikuttySingam Justification of the movie title is done during the title credits with #Sathyaraj & joint family intro.
@Karthi_Offl intro with rekla race scene has come out well.Can see the huge production values of @Suriya_offl @2D_ENTPVTLTD
Kaushik LM: #Kadaikuttysingam -After Theeran, it's a huge changeover for @Karthi_Offl. It's selfless of him to share the frame with countless other noted actors. When he talks about the pride of being a farmer and the future of farming, it connects well, due to his clean image. @pandiraj_dir
#Kadaikuttysingam 2nd half - Lots of drama & emotionally heavy scenes. Has one big melodramatic stretch in the end. It's a film catered to the family audiences. Those with a large family and from a rural background will relate to it more.
@Karthi_offl leads the cast majestically
#KadaikuttySingam 1st half - Don't go in late. The initial part of the film is a big highlight. @Suriya_offl marks a charming presence in a cameo, appearing along with brother @Karthi_Offl and his #ReklaRace winning bulls..
#Kadaikuttysingam 1st half - @pandiraj_dir keeps it lively and engaging in the scenes when the large family is introduced. @Karthi_Offl looks Gethu and is perfect as the proud farmer. Soori provides steady comedy support. @immancomposer is another hero with 'Vaa Jikki' & the BGMs
Sidhu: #KadaikuttySingam Interval: Built as a neat family entertainer ticking all the necessary elements. Has a superb start with the rekla race and Vaa Jikki, then gets onto the usuals. Karthi holds it up with his jolly act!
Review Ram: #KadaikuttySingam (Tamil) - Will surely satisfy its taget audience. @Karthi_Offl @2D_ENTPVTLTD @immancomposer @pandiraj_dir @sayyeshaa
#KadaikuttySingam (Tamil) - Interval - Plus points: @Karthi_Offl fits perfectly as a young farmer. @pandiraj_dir's message oriented dialogues are strong. @immancomposer's BGM & @VelrajR's camera work are impressive. @sooriofficial 's humour works at places. @2D_ENTPVTLTD
Raja Rajendiran: @pandiraj_dir , sir a big hug to you. after long time., a feel good cinema for tamil audience. keep rocking. all the very best to the entire #KadaikuttySingam team @Karthi_Offl , @Suriya_offl @sayyeshaa ,@johnsoncinepro @Priyabshankar_ ,@Sibi_Sathyaraj
S.R.Prabhu: It's been ages since a movie moved me so much! The drama was too good...that you would want to watch with your whole family again!! @pandiraj_dir Super work team... #KadaikuttySingam