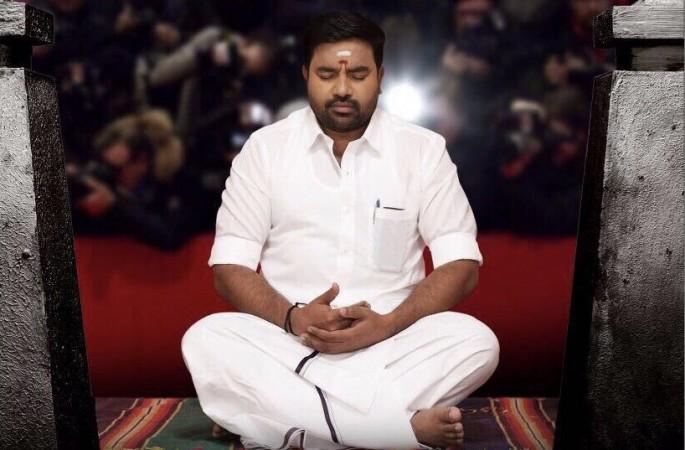 CS Amudhan's Tamizh Padam 2 (Tamil Padam) has opened to good reviews from the audience. Although the movie has a predictable story, the humour part has struck the chord with the viewers.
Filmmakers spend crores of rupees on marketing and publicity to reach out to the audience, but here is a film which has not spent on promotions but devised a rather clever strategy that gave them free publicity. CS Amudhan's Tamizh Padam 2 has drawn the viewers' attention with spoofs and digs taken at the movies of big stars.
Tamizh Padam 2 Story Analysis and Review:
It is a parody film about the clichéd heroes in Kollywood. Tamizh Padam 2 trolls the stars, movies, political parties and what not! The movie is packed with spoofs scenes from the word go. The formulaic and dramatic scenes in the stars' movies like Ajith, Vijay, Simbu and many others have been spoofed which break the funny bones of the audience.
Shiva remains the backbone of the movie and Sathish as the antagonist is equally good. The audience have liked the clash between the two.
On the flipside, the story is predictable and a few songs work like speedbreakers. In short, it is a wholesome fun package with splendid humour of Shiva powered by wacky spoof ideas of CS Amudhan, say viewers.
Find out what the audience say here:
Ramesh Bala: #TamizhPadam2 [3/5]: A Below Par 1st Half.. Much Better 2nd half..
Spoof comedy works.. Songs and romantic scenes create lag..
Based on excellent promos, if u expected a non-stop laugh riot, the movie doesn't provide that..
But still enjoyable ride..
Manobala Vijayabalan: #TamizhPadam2 1st half:
- Spoof at its very best.
- Theatre erupts for most of the scenes.
- Mass intro for @actorshiva.
- @actorsathish keeps the 'P' element alive.
- Good placement of Songs.
- Well presented by @csamudhan.
#TamizhPadam2 3.5/5: FUN WATCH. Has plenty of spoof to satisfy all set of audience. Top performance from @actorshiva & @actorsathish. Nice songs & BGM. Director @csamudhan totally nailed it. Sure to make big numbers at Box Office.
Kavya Nakshatra: #TamizhPadam2 - a comedy business taken very very seriously! Technically, musically, all-ly. And @Ishmenon gets such a 'meaty' role in a film like THIS! How lucky! #DieLaughing
Arvind Sundaram: #TamizhPadam2 - lives upto what the film promised! 120 minutes of fun, laughter! #MirchiShiva - whatever he does, is so funny and enjoyable!! @csamudhan nailed it once again - ultimate packaging!
Kudos to @StudiosYNot
Karthi8309: #Tamizhpadam2 it was awesome entertainment movie. Everyone is getting confuse to identify on which movie was trolled @shyamthedude @pulsarparthi66 @actorsathish
Kaushik LM: #TamizhPadam2 - As expected @csamudhan is on a trolling spree. As expected @actorshiva rocks with his trademark deadpan humor & dialog delivery. @actorsathish's different makeovers are a highlight too. Plenty of LOL moments & some flat moments too. Long first half, 1 hr 20 mins
#TamizhPadam2 It's an hour since we saw the film but we are still laughing! This is a rip roaring comedy/spoof/troll. @csamudhan is the master of this! @actorshiva is the only actor in the Agila Ullagam who can pull this off! Proud of you @sash041075 for your conviction! #TP2

— Pushkar&Gayatri (@PushkarGayatri) July 12, 2018
ItzShinChan_: If I die of laughter please arrest @csamudhan , @sash041075 , @actorshiva
On the downside, comparing with the number of scenes trolling Ajith and Rajinikanth, there wasn't many spoof sequences on Vijay and Kamal Haasan . Gutsy attack on ADMK and BJP!
Natraj: #Tamizhpadam2 Some Dialogues & Some Spoofs were Enjoyable, Otherwise as a whole, as a Film It Was Sloppy.. Screenplay Was Too Slow. Story..
Ragul_official: #TamizhPadam2 - Long time since Tamil Cinema witnessed a full-fledged comedy. An absolutely entertaining laugh ride made smartly and it will never get bore. Awesome film trolls both politics and cinema ,Kudos to @csamudhan @actorshiva & @actorsathish
@sash041075 @StudiosYNot
Rajasekar: #TamizhPadam - Must appreciate @sash041075's guts. In an industry where people easily get offended, he produced a film which mercilessly trolls other films and his own production ventures too (#VikramVedha is there but #VaQuarterCutting? didn't see that coming )!
#Tamizhpadam2 - After @ikamalhaasan, @actorsathish is the only Tamil actor to sport nearly 10 looks (or more) in one film. Vera level dance bro, kizhi kizhi kizhi
#Tamizhpadam2 - On the downside, comparing with the number of scenes trolling Ajith and Rajinikanth, there wasn't many spoof sequences on Vijay and Kamal Haasan . Gutsy attack on ADMK and BJP!
#TamizhPadam2 - no one is sparred. Felt the first half of the film is not that fun with unnecessary songs, the item number ft. kasthuri is also totally needless. But second half is super enjoyable , go and enjoy with your gang! @csamudhan has a winner.
Kannan: Many trolls worked out well. As a whole, movie might give a boring feel here and there . Anti-Indian and Resort trolls were good. Vedalam , Remo and vivegam trolls were ultimate . Athukaga matume paarklam . #TamizhPadam2 - sure fun . All big stars trolled
Bharathnt: #Tamizhpadam2 Thankfully @csamudhan doesn't disappoint. With @actorshiva around, he manages to evoke fun & laughter. From #Kabali to #Baahubali sparred none. Fun unlimited. Formula same but more flavour added. Let's debate #WhyPaatiKilledSiva.
Tamizhan Cinema: #TamizhPadam2 : The intro with " Agila Ulaga Superstar " is unexpected. The troll starts here and first half comedy worked in parts. Instead of a simple spoof movie @csamudhan created the dots and connected. @actorshiva is unstoppable in second half along with @actorsathish.
#TamizhPadam2 People can't control their emotions and laughing in groups when @actorshiva DHIYANAM scene arrives. The film will make you forget the robotic stress buster. Vivegam, Remo, Vedalam, OPS Thanks to @sash041075 for making this high budget film. Rating - 3.25/5
Heytamilcinema: With so much of positives from the @csamudhan directorial side, we can't rule out that the first half after a terrific start slipped apart midway and failed in the laughter quotient.Nevertheless, full cheers to the second half making up for it(3/5)
Working in bits and pieces. The team has done a good job in putting together a story recreating the famous Tamil movie scenes despite being a spoof movie.But on the laughter part,falling short of the hype and expectations.
Average so far!
Rajki_Tweets: #Tamizhpadam2 The intro scene laye seiya start pantanga
every bit I have enjoyed @csamudhan clever writing Siva efforts less ah act pani score pantaru @actorsathish Na. met u at Rohini . through out the movie u doing it well MR "p"
#Tamizhpadam2 worth watching it love u Siva
Starts from Title card till intermission Its laugh therapy Thaaaa Marana Entertainment
Ellarayum kalaichtanunga GauthamMenon mela enna kovamoo
#siva Breezy performance
Review Ram: #TamizhPadam2 from today. Take your friends & family for this hilarious stressbuster ride and laugh your lungs out in theatres. After a very long time, crowd went crazy for every 5-10mins in the first show. Positive reviews & tremendous feedback pouring in for the movie.
#TamizhPadam2 - Interval - Predictable, no big logic, few love scenes slow down the pace. Otherwise, it is a wholesome fun package with splendid humour of @actorshiva powered by wacky spoof ideas of @csamudhan . @actorsathish is good too. 'Enjoyable' so far.
#TamizhPadam2 (Tamil) - Long time since Tamil Cinema witnessed a full-fledged comedy. An absolutely entertaining laugh ride made smartly. Kudos to @csamudhan, @actorshiva &
Kevin Mario: #Tamizhpadam2 First half over. Smart phones please capture first title scene and opening scene. Awesome so far. Banga kalai! Yaaraiyum vituvekala! Expecting fun filled second half! @csamudhan
Movie is good.. Laughter. Ena.. Namma thalaiya semmaiya ootitanga!
#Tamizhpadam2 It is easy to create a emotional movie or action movie. But it is hard to make people laugh throughout the movie. Lollu sabha at a higher level! @csamudhan Wonderful work sir! Waiting for sequel!
Prashanth Rangaswamy: #TamizhPadam2 - Vedalam, Vivegam and Remo Trolled heavily. Politics - Total ADMK damage . A comic relief . Aanaa kasturi item song - Mudiyala .
Not even one vulgar shot in the movie so far , and yet he has spoofed so many things in the Most democratic way possible. Respect @csamudhan ! #TamizhPadam2 #Interval
#Tamizhpadam2 interval - Fun Fun and more Fun. Can't be just termed as a spoof movie , @csamudhan has worked so hard on even tiny things. No mercy to any actor - Suttle galaai !! .
Hari: Hard to imagine #Tamizhpadam2 without @actorshiva , he is the core and blend of #TP2 ,simply because of his body language. Doesn't spare a single hero and their stereotyped style.
Tamizh Padam Hype
Without hurting any, the team has managed to create huge buzz around Tamizh Padam 2. The movie had first caught the people's attention after releasing a photo in which Shiva was seen meditating with enthusiastic photographers behind him. The posture was apparently inspired by Tamil Nadu Deputy Chief Minister O Panneerselvam who meditated at Jayalalithaa's memorial when the AIADMK party was split into two factions.
Thereafter, the movie has not spared any stars in Kollywood and parodied one after the other that include Rajinikanth, Kamal Haasan and Vijay. The movie has taken dig at GST, Tamil Rockers and other issues. Nonetheless, their takes have not rubbed anybody in a wrong way and promos have been in a good taste.
As a result, the audience have pinned high hopes on Tamizh Padam 2, which is releasing on Thursday, July 12. Shiva, Disha Pandey and Iswarya Menon are in the lead roles. Sathish, R Sundarrajan, Chetan, S Sashikanth and others are in the cast.
N Kannan has composed the music and Naan Yaarumilla, Eva Da Una Petha and Kalavarame songs have stuck the chord with the viewers. It has Gopi Amarnath's cinematography and TS Suresh's editing.