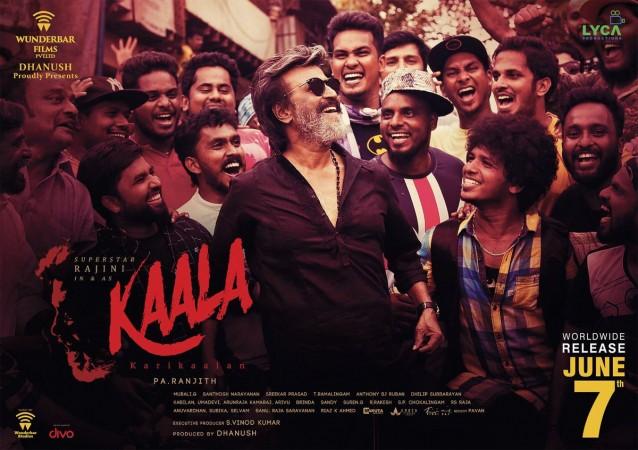 Kaala audio launch is slated for Saturday, May 9.
The film marks the second union between Rajinikanth and Ranjith after Kabali.
The music for Kaala has been composed by Santhosh Narayanan.
Rajinikanth fans do not have to wait till May 9, 2018, to hear Santhosh Narayanan's tunes for the superstar's upcoming film, Kaala, as a single from the music album is all set to be released Tuesday, May 1.
Dhanush, the son-in-law of Rajinikanth, who is also bankrolling the Pa Ranjith-directed film under his banner "Wunderbar Films", took to Twitter Monday, April 30 to make the announcement. "Semma weightu" will be the title of the track that will hit the internet on Labour Day.
"A surprise to Superstar fans. #kaala 1st single #semmaweightu will be released tom evening at 7 pm. #rajinism #thalaivar (sic)," Dhanush wrote.
A grand audio launch has been reportedly planned for the Kaala release on May 9. Dhanush made the announcement Saturday, April 28. He teased Rajinikanth fans by adding they can expect "stylish tunes" from Narayanan, who is working with Rajnikanth for the second time after Kabali.
If Kabali's energy-filled tunes are anything to by, Rajinikanth and Narayanan's fans are set for another musical treat in the coming days.
"#Kaala from June 7 ! I am very eager to share the music of this gem of a movie. Will update details very soon . Thank you dear @rajinikanth , @dhanushkraja and @beemji for giving me all the space to express myself musically," composer Narayanan had written on Twitter on April 20, helping raise expectations.
Kaala was scheduled for an April 27 release but it was postponed to June 7 due to a recently-concluded strike in Kollywood — Tamil film industry.
Notably, Kabali, unlike many other Rajinikanth films, had a low key audio launch. Nonetheless, Rajinikanth is expected to be back in time from his two-week trip to the United States for Kaala's music release.
Kaala marks the second union between Rajinikanth and Ranjith after Kabali. The film's teaser trailer, which was launched in March took the internet by storm as it became a rage among Tamil cinema fans.
The upcoming film also has a stellar cast, which includes the likes of Marathi great Nana Patekar, Bollywood actor Huma Qureshi among others.