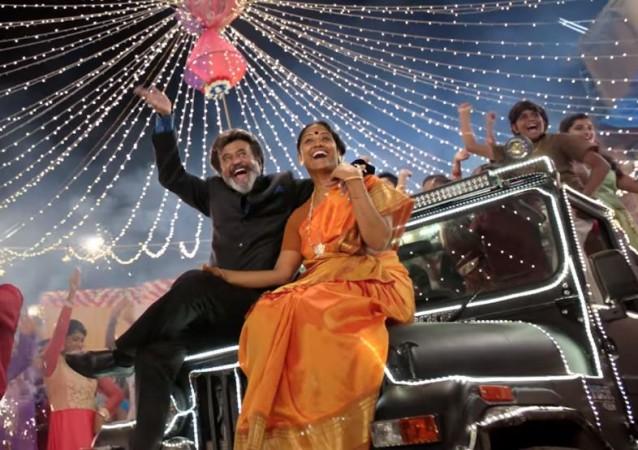 Director Pa Ranjith's Kaala has made a poor collection at the Andhra Pradesh and Telangana (AP/T) box office in the four-day-extended first weekend and got the first taste of disaster to Rajinikanth.
Kaala was dubbed and released in over 600 screens across the Telugu states on the same day when its original version hit the screens. Before its release in these areas, the movie had a huge hype and curiosity generated by its promos. The film was expected to start with a bang and shatter the records of Rajinikanth's previous releases in the Telugu states.
Having opened to an average response, Kaala collected Rs 5.20 crore gross at the AP/T box office on the first day. The movie smashed the opening day record of Rajini's Lingaa, which raked in Rs 5 crore in the states. It went on to become the second biggest opener for the superstar after Kabali (Rs 12.40 crore gross).
The Pa Ranjith-directed action crime thriller received a mixed response from the Telugu audience and the word of mouth took a toll in its collection on the following days. Kaala is estimated to have collected Rs 12.50 crore gross at the AP/T box office in the four-day-extended first weekend.
The four-day collection of Kaala is equal to the opening day business of Kabali. The movie has also failed to beat the record of Lingaa, which minted Rs 15.30 crore gross in the Telugu states in its (three days) opening weekend. AndhraBoxOffice tweeted, "Despite Average Reports, #Kaala is a Big Disaster at the Boxoffice in Telugu States with 1st Weekend (4Days) Being far lesser than #Lingaa (2014, 3 Days)!."
The stakes are very high on Kaala, as the distributors have reportedly shelled out Rs 33 crore on its AP/T theatrical rights. The movie is estimated to have earned Rs 8 crore for the distributors in these regions in three days. Considering its current pace of collection, the movie may recover another Rs 8 crore in the coming days. But the film will not be able to return more than 50 percent of their investments.
Actor-turned-producer Dhanush has reportedly spent Rs 140 crore on the production and promotion of Kaala, which has fetched him Rs 230 crore from the sale of its theatrical, satellite and other rights. The movie has also not fared well in some other parts of the world. It is like to cause losses to the distributors of those areas too.