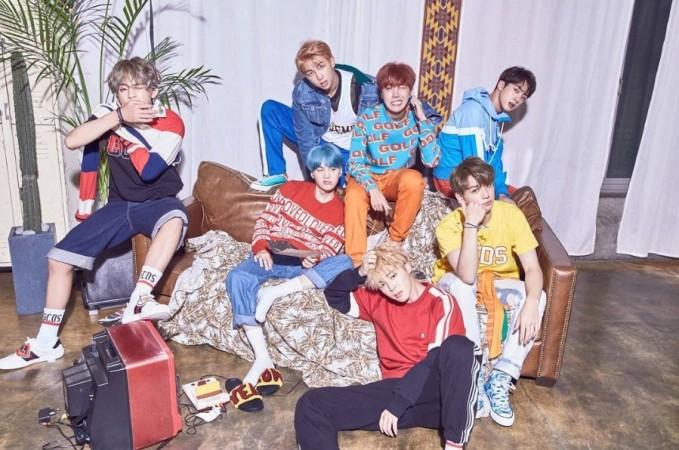 K-pop group BTS (also known as Bangtan Boys, Bangtan Sonyeondan and Bulletproof Boy Scouts) is steadily turning into a force to reckon with not only in its home country South Korea and neighboring countries but also across the globe.
It has a huge fan following (BTS Army) around the world and has won several awards, including a few from the United States, over the past one year.
How did BTS manage to win the hearts of people beyond the borders? Is it because of their sheer hard work and talent, or because of lack of boy bands in the music industry today?
We may not have a definite answer to these questions, but what is obvious is that the boys worked hard to get to where they are today.
BTS — consisting of V, Jungkook, Suga, Jin, Jimin, RM and J-Hope — had a hectic schedule last year, touring 20 cities and covering 12 countries, including the United States, Chile, Brazil, Thailand, Indonesia, Australia and Japan, as part of their Wings 2017 tour.
It takes a lot of hard work to put up even a single concert, and being on a world tour continuously for months is a different experience altogether.
The band has revealed in its documentary, titled BTS: Burn The Stage, that they went through lots of hardships, frustration and disappointments during the tour. Jungkook was even seen collapsing in one of the episodes due to exhaustion during a concert in Chile.
But, as they say, "hard work pays." The band went on to win the Top Social Artist Award at the Billboard Music Awards in 2017, got the chance to perform at the American Music Awards 2017 and appeared on the Ellen DeGeneres Show and Jimmy Kimmel Live.
It then went on to win the Best Boy Band and Best Fan Army awards at the 2018 iHeartRadio Music Awards, and the Favorite Global Music Star award at the 2018 Kid's Choice Awards. It also won the musician of the year award at the Korean Music Awards 2018.
The band's 2017 album Love Yourself: Her was a big success, selling more than 1.6 million copies and its single, DNA, debuted at number 85 on the Billboard Hot 100 and peaked at number 67. Two songs — DNA and Mic Drop — were certified Gold by the Recording Industry Association of America.
BTS has the attributes of a successful band. The band-members are hard working, haven't let success get to them (at least so far), and have been relentlessly working towards garnering fans besides making good music. However, it is also possible that people in the West embraced them due to lack of "good" boy bands in the region.
We saw several successful boy bands like The Backstreet Boys, NSYNC, Boyzone, Westlife, The Wanted, 98 Degrees, and One Direction in the last couple of decades but they have been either disbanded or on an indefinite break today.
There are a few popular boy bands like The Vamps, Why Don't We, PRETTYMUCH, In Real Life, and CNCO, that are currently active, but they are not as popular or as appealing as the older boy bands. This could be what's fueling the K-pop group's success.