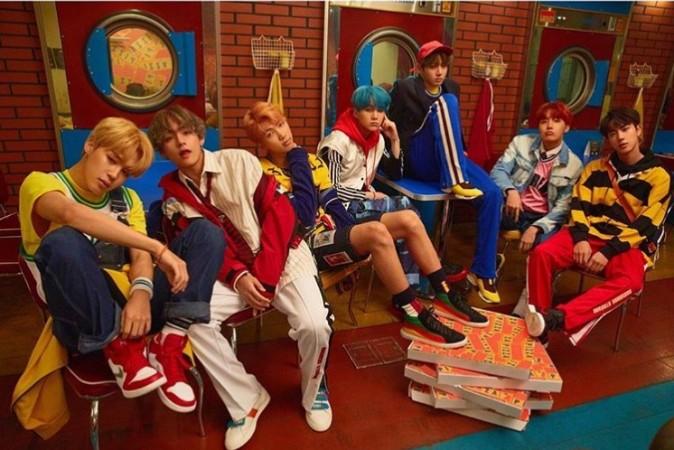 South Korean K-pop sensation BTS (also known as Bangtan Boys / Bangtan Sonyeondan / Bulletproof Boy Scouts) has a huge fan following across the globe, thanks to its recent exposure beyond the borders through the Wings world tour and appearances at music award functions. Interestingly, dozens of celebrities from the Western world have expressed their love for the band.
The Korean boy band comprised of seven members – V, Jungkook, Suga, Jin, Jimin, RM and J-Hope – had a great run last year, winning the Top Social Artist Award at the Billboard Music Awards and performing at the American Music Awards. Their commitment won them thousands of fans, including celebrities like John Cena, The Chainsmokers, Zedd and Rachel Platten.
Superstar wrestler John Cena has been showering his love on BTS of late, including sharing the band's pictures on social media. He recently danced to the band's song Mic Drop at the 2018 Kid's Choice Awards ceremony where BTS won the Favorite Global Music Star award. He also didn't rule out playing one of their songs when his fiancée Nikki Bella walks down the aisle on the wedding day.
The Chainsmokers are another celebrity duo close to BTS. They worked with the boy band in the song Best of Me, which was featured in the album by the latter titled Love Yourself: Her. The Korean band also performed at The Chainsmokers' concert in South Korea.
There are dozens of celebrities who have taken to social media to express their love for the K-pop group, and these include alt-pop singer Halsey, Charli XCX, Camila Cabello, Charlie Puth, Zedd, DNCE, Jared Leto, Laura Marano, Marshmello, and Rachel Platten.
It appears like BTS' popularity will rise in the years to come; at least that's what response to the band in 2018 has indicated.
The band, which got the musician of the year award at the Korean Music Awards 2018, also won Best Boy Band and Best Fan Army awards at the 2018 iHeartRadio Music Awards, and Favorite Global Music Star award at the 2018 Kid's Choice Awards.
It also featured in Forbes' 30 Under 30 Asia list (2018) in Entertainment and Sports category, following its growing popularity both at home and abroad.