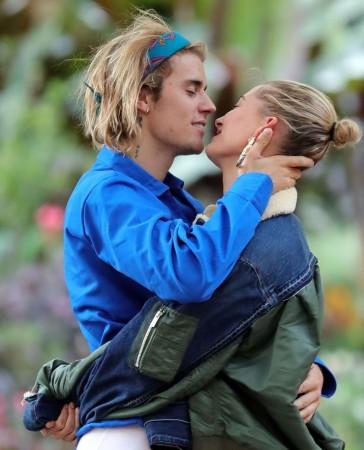 It was a special Thanksgiving Day for newly-weds Justin Bieber and Hailey Baldwin as this was their first Turkey Day together as a married couple. And, it definitely got better with the 'Sorry' singer referring to himself as a 'married man' for the first time.
Justin and Hailey celebrated the holiday with their families. It also happened to be Hailey's 22nd birthday. A clearly overwhelmed Justin took to Instagram to share his gratitude in a Thanksgiving post.
Posting a picture of bare trees in some snow, Justin captioned the photo, "Happy late thanksgiving to everyone," Justin captioned a photo of trees. "First thanksgiving as a married man, first time hosting thanksgiving. First time both sides of the family has come together. Relationships are hard and love isn't always easy but thank you Jesus for showing me how! Every day is a learning process, trying to be more like him, patient, kind, selfless, boy I got a long way! But gods grace is sufficient!"
While the couple has made no effort in hiding their blossoming love, this is the first time that Bieber has publically acknowledged himself as a married man. Meanwhile, Baldwin recently changed her Instagram handle to Hailey Bieber.
As Hailey and Justin are settling into wedded bliss, their families are eagerly waiting for them to have a baby. A source close to the couple told Hollywood Life: "Family is incredibly important to Hailey and Justin, so obviously they want their families to spend as much time together as possible. Right now everybody is still getting to know each other, but the Biebers and Baldwins have a lot in common and they are already becoming really close."
"They share the same family and faith values, and everybody is united in their commitment to helping and supporting Hailey and Justin as they start out on their married life together. It's a really happy and exciting time for both families with a wedding to plan and the prospect of a new grandchild somewhere soon on the horizon," the insider added.
"Both Hailey and Justin are being teased about starting a family soon. Even though they've not had their official wedding yet, it's pretty safe to say that a baby won't be too far off. It's certainly next on their agenda," the source went on.