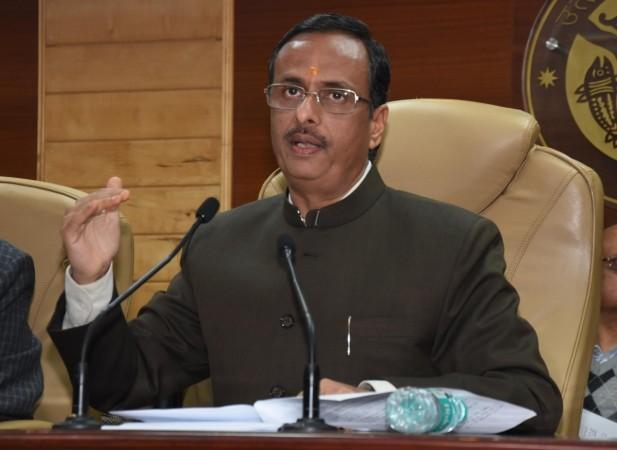 BJP leaders linking innovative ideas and modern technology to Hindu ideologies and ancient times is nothing new. Tripura CM Biplab Deb to Gujarat CM Vijay Rupani, and most recently Vice President Venkaiah Naidu, the party leaders have had their fair share of time in the spotlight for making bizarre or downright absurd statements. The most recent politico to join the bandwagon would be the deputy chief minister of Uttar Pradesh.
According to Dinesh Sharma, journalism began during the time of Mahabharata.
The deputy CM was speaking at an event to mark 'Hindi Journalism Day' on May 30, according to Press Trust of India. Sharma further elaborated on this, drawing parallels between modern-day broadcast news and events of Mahabharata, an epic from Hindu mythology.
He added that Sanjaya, Dhritarashtra's charioteer, narrated the bird's eye view of the war to the latter while he was at Hastinapura. He left the audience with the question to ponder, "Yeh live telecast nahi to aur kya hai (if it is not live telecast, then what is it?)"
But that is not all. Sharma also equated the mythological character Sage Narada with search engine Google.
Your Google has started now, but our Google started a long time back. 'Narad Muni' was the epitome of information. He could reach anywhere and transfer a message from one place to another by saying 'Narayana' three times."
While addressing the issue of the safety of journalists in India, the deputy CM said that governments should take responsibilities for the security of media personnel. Sharma also requested Yogi Adityanath, the chief minister of Uttar Pradesh, to provide financial assistance to the families of deceased journalists, reports NDTV.
In a similar instance, Rajasthan BJP MLA Gyan Dev Ahuja stirred controversy after he said that Hindu god Hanuman was the world's first tribal leader. "The first saint among the Adivasis was Hanuman Ji. When Lord Ram was on his way from Chitrakoot to the southern part of the country for the exile, Hanuman made his army of tribals and got training from Lord Ram," Ahuja said.