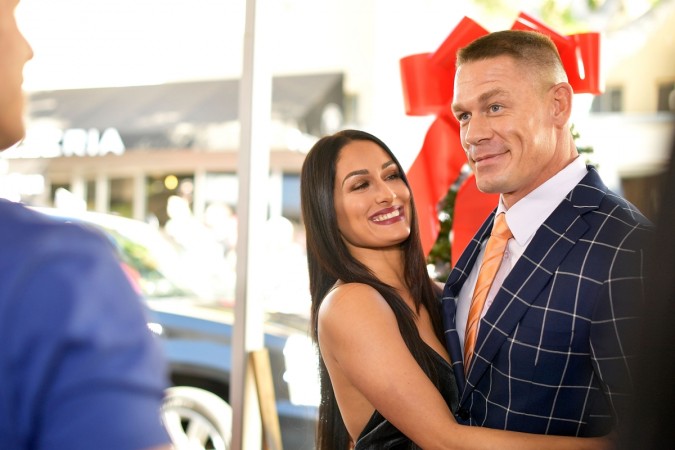 John Cena and Nikki Bella amazed everyone in Arpit 2017 when the WWE professional wrestler asked the two-time WWE Diva's Champion Nikki to marry him in front of more than 70,000 WWE fans. However, the engagement did not last long as the couple soon announced their separation. Nikki Bella recently opened up about her feelings towards John Cena and how she is concentrating on herself.
During her recent conversation with Entertainment Tonight, Nikki noted that she and John Cena do not talk anymore as "he's doing him and I'm doing me." She also admitted that she and John "have not spoken recently," and added that after the split, she is taking time to focus on herself.
"I slowly feel like I'm doing that," she further explained. "I think it's happiness, and just fully being happy — that's what I want."
After parting ways with Elizabeth Huberdeau in 2012, John Cena started dating fellow wrestler Nikki Bella. It was around the same time when Nikki had lost the Diva's Championship against Layla. Their subtle courtship became the talk of the town after it was shown on Total Divas and Total Bellas.
In one of her earlier interviews, Nikki revealed that it was John who asked her out for dinner. The couple got engaged on April 2, 2017, when Cena proposed to her at WrestleMania 33. The couple was scheduled to marry on May 2018 but sadly ended their relationship soon after announcing their engagement.
As of now, Nikki is enjoying getting out of her comfort zone. She added, "I just feel like I'm at that age where I'm discovering who I really am and what I want out of life and just, like, independence," she said. "Is it scary and you do have these moments of like, 'What am I doing?' -- and fear. I just kind of am liking the challenge."
In the interview, Nikki Bella also made clear about her previous statement about "dating life is boring." Nikki made it clear that when she joked about her dating life, she actually said "Netflix and black licorice and [was boring]'... it's not what people expect, but I've got to admit I am single but I'm not ready for mingling yet."