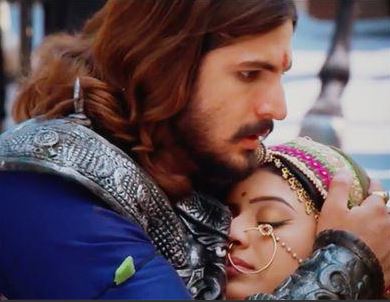 In the latest episode of "Jodha Akbar", Jalal (Rajat Tokas) crowns Salima Begum's son Murad as his successor.
Jodha's (Paridhi Sharma) son Salim (Ravi Bhatia) was shocked at the announcement as being the eldest son, it was his right, and not Murad's, to inherit the thrown.
However, Jalal later revealed that he did that to trick the King of Iran who was unwilling to let the people in India to visit Mecca and Madina as he believed that Jalal had insulted Islam by marrying a Hindu (Jodha), who had not convert to Islam.
Jalal's plan infuriated Salim as he felt that this would shatter Murad's dream to rule the country. On the other hand, Murad feels guilty of having snatched away his brother Salim's right to the throne.
Jalal had to take the extreme step as he was stuck in a situation where he had to choose either his countrymen or the promise he had made to his beloved wife Jodha - to let her continue living as a Hindu.
While everyone including Jodha and Salim were disappointed at Jalal's decision to crown Murad, Rukaiya (Lavina Tondon) - known to pass on harsh remarks - mentioned that had Jodha changed her religion after marriage, things wouldn't have gotten this bad.
Jalal told Rukaiya that no one should be forced to change their religion, but Jodha takes Rukaiya's words on a serious note.
In the prelude of the next episode, Jodha comes up with a solution; she is seen discussing with Jalal her decision to convert to Islam.
It now remains to be seen if Jalal allows Jodha to sacrifice her religion for the sake of Salim and the countrymen.