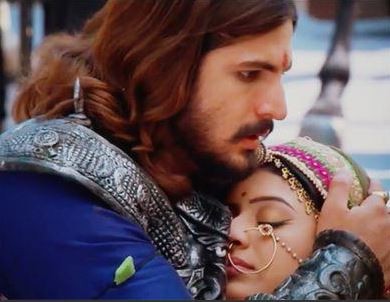 In the latest development in "Jodha Akbar", Jalal (Rajat Tokas) wins the battle against the Shah of Iran.
Surprisingly, after winning the battle, Jalal, who was forced to crown Salima Begum's son Murad as his successor, announces handing over the crown to Jodha's son Salim (Ravi Bhatia), saying it is Salim's birthright, as he is the eldest son.
While Salim rejoices over his father's decision, Murad is upset.
Murad feels he was used by Jalal, who had crowned him to trick the Shah of Iran, who was unwillingly to let the people in (medieval) India to visit Mecca and Madina, as he believed that Jalal had insulted Islam by marrying a Hindu (Jodha), who has not convert to Islam.
Meanwhile, in Agra, Jalal's mother Hamida's health keeps deteriorating, as she refuses to take medicine or food until Jodha (Paridhi Sharma) converts to Islam.
Jodha, who is so far banned from visiting her mother-in-law, is worried for her failing health, but also insists on not changing her religion.
Later, Gul Badan visits Jodha and ask her to give up her stubbornness in order to save her mother-in-law.
This puts Jodha in a dilemma, whether to keep her husband's word (of not converting to Islam), or to go by her mother-in-law's wish.
It now remains to be seen if Jodha finally makes up her mind and converts to Islam, before Jalal arrives in Agra.