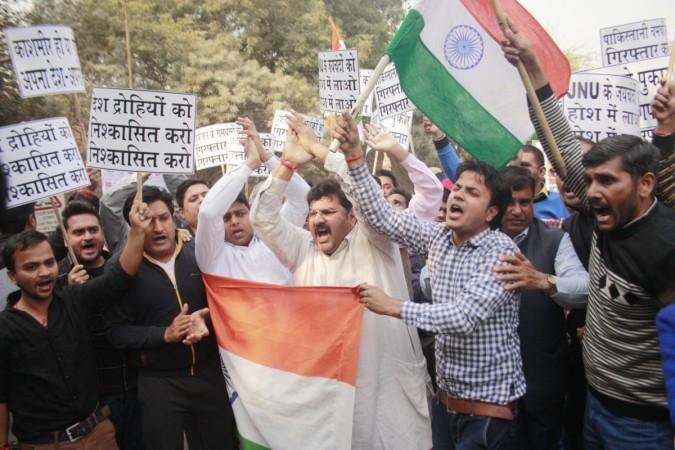 The event organised by Jawaharlal Nehru University's students union to observe the third death anniversary of 2001 Parliament attack convict Afzal Guru was backed by Lashkar-e-Taiba chief Hafiz Saeed, Union Home Minister Rajnath Singh said on Sunday.
"It's unfortunate that the JNU incident has been backed by Lashkar Chief Hafiz Saeed. Nation must also accept the reality that incident that took place in JNU, has been supported by Hafiz Saeed. This is unfortunate," Press Trust of India quoted Rajnath Singh as saying.
Singh said the government would take strict action against those who shouted anti-India slogans at the event organised on Tuesday.
"Strict action will be taken against anyone who is found guilty. But innocent people must not be harassed. I appeal to all political parties that whenever such situation arises where anti-India slogans are raised, entire nation must speak in one voice," the home minister said.
Students who participated in the event allegedly shouted slogans in support of Kashmiri separatism and Guru, who was hanged on Feb. 9, 2013. They could allegedly be heard saying: "Kashmir ki azadi tak jung chalegi, Bharat ki barbadi tak jung chalegi," at the event, India Today reports.
Based on the complaints filed by BJP parliamentarian Maheish Girri and right-wing students' body Akhil Bharatiya Vidyarthi Parishad, the Delhi police arrested JNU Students' Union president Kanhaiya Kumar on Friday.
Kumar was arrested on charges of sedition and criminal conspiracy for allegedly organising the event and protesting against the hanging of Guru, and sent to police custody for three days, according to India Today.
A committee led by JUN's chief proctor will investigate the matter. The Delhi government has also ordered a magisterial enquiry into the claims that anti-national slogans were raised at the university campus.
Don't brand university as anti-national: JNU teachers appeal
"Isn't it unfair to brand the university as anti-national which has stood as an epitome of academics and democratic culture. Why tarnish its image by calling it a home to anti-nationals?" PTI quoted the teachers as saying.
"We have taught here for years, we know what it is to be at JNU. We appeal to the public to look beyond the present controversy and not to associate the "adjective" anti-national with JNU," a Social Science professor said on condition of anonymity.
"University is doing an enquiry, police is probing the case, the Delhi Government has also ordered a magisterial enquiry. Why can't we wait to see how the situation unfolds? Why brand the university as a ground for terrorists?" stated a Linguistics department professor.
Several teachers also expressed their opinions against Kumar's arrest on sedition charges, adding his acts amounted to "indiscipline" and not "sedition." Students organised the event even though the university administration withdrew the permission granted earlier.
"University is a place of debate and dissent. Ideas should compete with ideas, force and violence cannot be used to suppress ideas. Arbitrary arrests should stop and our internal mechanism should deal with situations," Centre for Linguistics' professor Ayesha Kidwai said.
A solidarity march to demand Kanhaiya's release is expected to be held on Sunday evening.