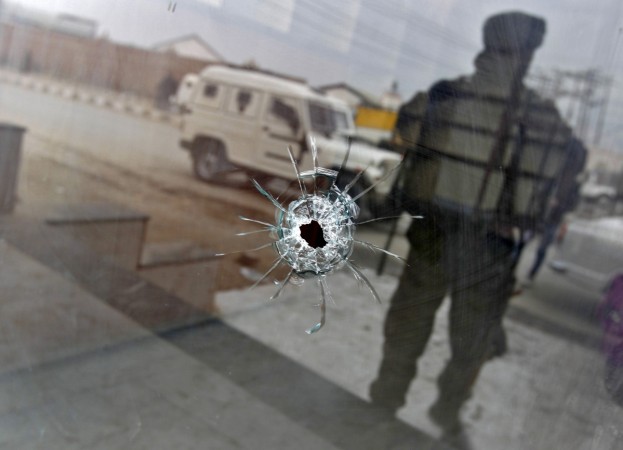 One jawan was killed while five others got injured after unidentified gunmen attacked a convoy of the Central Reserve Police Force (CRPF) in Jammu and Kashmir on Monday. The jawans belonged to the 97 Battalion. A girl was also injured in the attack.
The attack happened near the Pantha Chowk area in Srinagar when the CRPF convoy was going from Jammu to Srinagar. The injured have been rushed to a nearby hospital. The jawans were a part of adittional companies deployed for election duty for Lok Sabha bypolls scheduled to be held on April 9.
UPDATE: #Kashmir #CRPF convoy attack, 6 jawans injured.

— IBTimes India (@ibtimes_india) April 3, 2017
| #Kashmir | Terrorists target #CRPF convoy. 3 jawans injured. Were headed for election duty.https://t.co/BvCpwlRPBx pic.twitter.com/7Itab8BuIw — IBTimes India (@ibtimes_india) April 3, 2017
"Our companies were going from Jammu to Srinagar when they were fired upon by terrorists. Six personnel have been injured and taken to the hospital," local CRPF PRO B Chaudhary told the media. He added that "it's a sensitive time. Separatists have called for boycott of elections. We are on high alert. CRPF is doing its duty."
Head Constable Basappa of the CRPF succumbed to his injuries while two other CRPF jawans are believed to be in a critical condition.
On Sunday evening, a policeman was killed and 11 other personnel injured after militants hurled a grenade on a joint party of the Jammu and Kashmir Police and paramilitary forces in the Nowhatta area of Srinagar. Eight of the injured were policemen while three of them were CRPF jawans. The attack happened on the day Prime Minister Narendra Modi visited the Kashmir Valley to inaugurate the Chennai-Nashri road tunnel.
On April 1, two jawans were injured after militants attacked a convoy of the Indian army on the Parimpora-Panthachowk bypass in Srinagar in Jammu and Kashmir. The attack took place near JVC Hospital (also known as SKIMS Hospital) in the Bemina region of Srinagar.