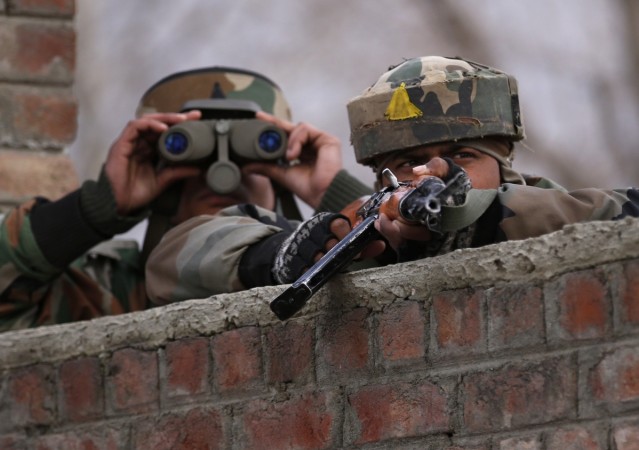 At least two jawans were injured after militants attacked a convoy of the Indian Army on the Parimpora-Panthachowk bypass in Srinagar in Jammu and Kashmir on Saturday. No casualties have been reported.
Militants opened fire on an army bus that was a part of the convoy around 1:15 pm on Saturday. The attack took place near JVC Hospital (also known as SKIMS Hospital) in the Bemina region of Srinagar. The injured have reportedly been taken to the Army Base Hospital in Srinagar.
A police official told PTI that the last vehicle of the convoy was fired upon by the militants following which the Indian Army retaliated. He added that the area has been cordoned off and search and combing operations are currently underway to flush out the militants.
#Army convoy attacked on Parimpora-Panthachowk bypass in #Srinagar: Police.

— Press Trust of India (@PTI_News) April 1, 2017
#FLASH: Army convoy attacked by terrorists in Bemina on outskirts of Srinagar city. 1 army personnel injured (J&K) (visuals deferred) pic.twitter.com/hQXflMwkfU — ANI (@ANI_news) April 1, 2017
Gunshots in Lal Chowk, Srinagar
Multiple gunshots were reportedly heard in the Lal Chowk area of Srinagar in Jammu and Kashmir around 12:50 pm on Saturday.
Reports suggest that an unidentified person has also been arrested. However, there has been no official confirmation on the same yet.
The gunfire has created panic among the public in the Lal Chowk area.
"There was a boy who tried to enter the Taj hotel. I think he is mentally deranged. He is with us. there is nothing to panic: Superintendent of Police, Srinagar, told ANI.
There was a boy who tried to enter the Taj hotel, I think he is mentally deranged. He is with us, there is nothing to panic: SP, Srinagar pic.twitter.com/r3bwHFvmr2

— ANI (@ANI_news) April 1, 2017