The Jammu and Kashmir government is spending Rs 2 crore every day on the treatment of common people and 97 percent of the population of the Union Territory has insurance coverage.
This was stated by Lieutenant Governor Manoj Sinha while handing over an ex-gratia cheque of Rs 10 lakhs to NoKs of each deceased National Health Mission employee.
"SEHAT Golden cards have been provided to 80 lakh citizens, with 28,000 hospitals extending treatment facilities to them across the country. Today, dialysis facilities have been made available in all districts. Geriatric and Pediatric wards have been established in all district hospitals", the LG further said.
Several reforms were undertaken to implement the system of 'Any Treatment, Anywhere, Anytime'. The 'e-SAHAJ' initiative entails online appointments from doctors and the digitization of patients' medical records. As many as 575 health facilities are covered under this initiative, the Lt Governor said.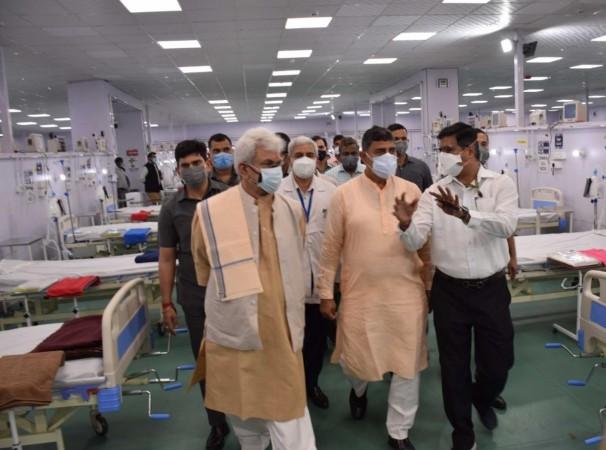 J&K Govt issues "Golden Cards" to over 17 lakh families
The Jammu and Kashmir government has issued "Golden Cards" to over 16 lakh families under the Ayushman Bharat scheme that has transformed the healthcare facilities for residents of the union terrirtories per official records, 17 lakh families have been covered under the Ayushman Bharat scheme.
As per the officials, this has removed the burden of out-of-pocket expenses as PMJAY aims to make the entire process of paying for healthcare cashless.
All public and empanelled private hospitals have been directed to not charge any extra payment for medical care from all PMJAY beneficiaries to reduce corruption or delay in services.
In order to provide the best and most advanced health care facilities to the people of Jammu & Kashmir, the government launched the AB-PMJAY SEHAT scheme in convergence with the Central Government's AB-PMJAY scheme to provide free-of-cost 'Universal Health Insurance Coverage' up to Rs. 5 lakhs per family on a floater basis.

J&K's health sector going through a sea change
Speaking on the reforms introduced to strengthen the healthcare system, the Lt Governor said, under the guidance of Prime Minister Narendra Modi, J&K's health sector has gone through a sea change ensuring high-quality affordable, accessible healthcare for all.
Continuous efforts are being made to remove the regional imbalance which existed earlier in the field of health care. J&K is performing better than the national average on several parameters. The health indicators exemplify our efforts to ensure well being of the common citizens, he added.
"In our journey to achieve Quality & Accessible Healthcare, we have taken special care to make our health services effective, people-centered and equitable", observed the Lt Governor.
Improved health infrastructure, an expansive network of health & wellness centres, the substantial increase in MBBS seats, universal health coverage, ambulance services, and mobile clinics, besides decentralization of medical facilities have ensured the expansion of health services in remote & far-flung areas, he added.