Reliance Jio is targeting a new milestone for its JioPhone, which is now in the hands of 25 million Indians. The telco wants to bring the cheapest smart feature phone in the hands of 100 million users and it has introduced JioPhone Monsoon Hungama scheme in order to help with that plan.
At the 41st Annual General Meeting (AGM), RIL chairman Mukesh Ambani made series of announcements, ranging from Jio GigaFiber rollout and Jio GigaTV set-top-box, and JioPhone's success in India alongside the launch of JioPhone 2 turned many heads around.
Targeting 100 million users for its JioPhone is not unreal, as there's a vast potential with 500 million people still using feature phones in India. Reliance Jio is using that to its advantage and offering an attractive exchange scheme to all the feature phone users out there.
What is JioPhone Monsoon Hungama offer?
JioPhone Monsoon Hungama offer is an exchange programme targeted to convert millions of feature phone users to JioPhone. Under the offer, owners of any feature phone can trade in their existing phones for a new JioPhone.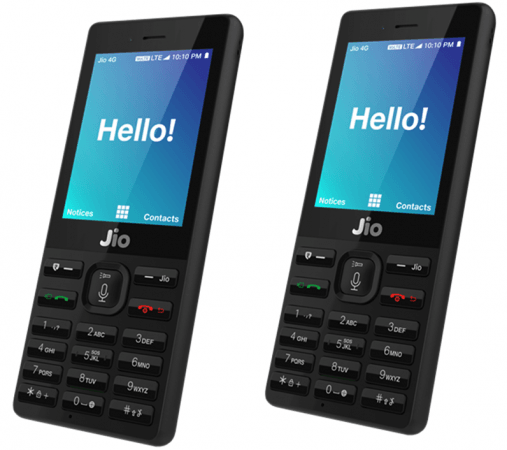 There's a catch. While trading in the old feature phone, consumers will have to pay Rs 501 towards the new JioPhone. To recall, JioPhone was launched last year for effectively free, but buyers had to pay Rs 1,500 as a deposit, which will get refunded over a period of three years.
JioPhone is still 'effectively free'
In the case of JioPhone Monsoon Hungama offer, buyers won't have to worry about losing that Rs 501 while upgrading to JioPhone, as it will be refunded at the end of 3 years.
To make things more exciting, Reliance Jio is offering a special JioPhone recharge plan under Monsoon Hungama offer. Buyers will get unlimited voice and data for 6 months by paying Rs 594 at the time of activation. In addition, there will be a special exchange bonus of 6GB data voucher worth Rs 101, which takes the total data to 90GB over a period of 6 months.
"There are currently 2 JioPhone plans available: Rs 49 and Rs 153. The Rs 49 plan is a kind of trial plan with 1GB monthly data, whereas our highest selling plan Rs 153 provides 1.5GB data /day. We realised that there are some users who may want lesser data and therefore must get the plan at a lower price. Hence we are introducing Rs 99 with unlimited free voice, 0.5GB data /day and 300 SMS for 28 days. This will reduce the monthly spends straight away by nearly 50%," the company spokesperson said of the new offer.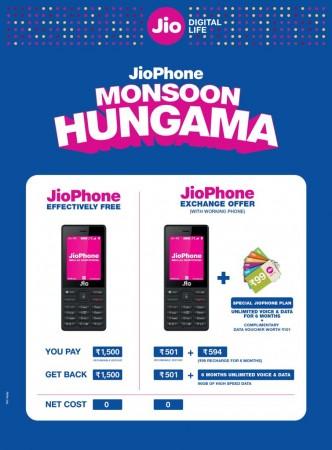 When and how to avail JioPhone Monsoon Hungama offer?
JioPhone Monsoon Hungama offer is scheduled to go live on July 20 at 5:01 p.m. The offer was previously going live on July 21, but it appears the company decided to go a day early.
If you've registered your interest in the offer, you will be notified when the offer kicks off at a nearby store. Interested customers must visit any Jio store or Reliance Digital Store with an old feature phone in working condition with a charger, Rs 501, Aadhaar ID card and a passport size photo. You can expect some demand for this offer, so it is advised to rush before the stocks are replenished.
Customers looking to avail the JioPhone offer must ensure that the mobiles that they are exchanging are bought after January 1, 2015. It can be any 2G, 3G, 4G non-LTE phone, but customers cannot trade in their existing JioPhone or any other CDMA or carrier locked phones.