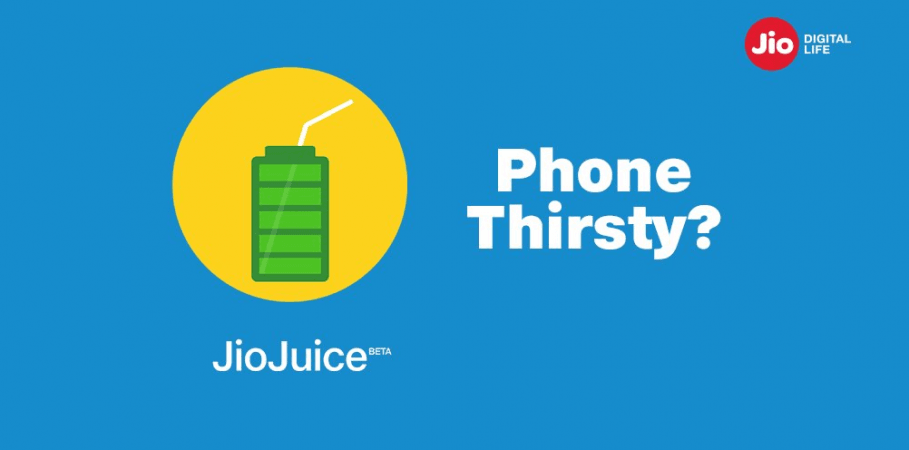 Amidst concerns regarding the Jio Prime membership validity which ends Saturday, March 31, Reliance Jio has teased the launch of a new product called Jio Juice on Twitter.
Jio has teased the new product via a couple of tweets and the teasers ask the question "Phone Thirsty?" and mention the word 'Beta,' which indicates that the mysterious Jio Juice is going to be an app. And going by the name, it will most likely be a battery saver app.
Now, Jio already has a proprietary apps suite called the My Jio app which includes Jio Music, Jio TV, Jio Money among others. Jio Juice will serve as the latest addition to Jio's list of apps, and since the app is in its beta stage, users may be required to register to try it out. Once the initial beta testing is done it may be rolled-out to the public.
However, Jio has not yet revealed any information regarding the upcoming app except the teasers on Twitter which only reveal that it will be "coming soon."
The Jio Juice app's news comes as Jio's Rs 99 Prime subscription is coming to an end. The Prime Membership ends tomorrow, March 31 and this has left many users worried.
The company hasn't yet made any announcement on the future of the Prime Membership plan, but it is expected that it will make an announcement before March 31. Meanwhile, customers who are currently active on a certain Jio recharge pack need not worry since their pack validity will continue even after the Prime membership ends, as per Jio customer care.
What this essentially means is that if a customer has recharged with any of Jio's recharge packs, for example, the Rs 399 pack, he/she need not worry about the pack's validity going void after March 31.
In the meantime, we will keep you posted if there are any updates on the Jio Prime membership.
Reliance Jio had announced the Jio Prime subscription in February last year. The subscription offered one full year of Jio subscription for Rs 99. The Prime membership was essential to stay on Jio's network and Prime members were to be given additional data compared top non-Prime members at the same prices.
Initially, users had to opt for the subscription by paying a sum of Rs 99, but it was later added automatically and the Prime membership fee was deducted from the recharge cost when a user recharged or purchased a pack, thereby making it effectively mandatory.