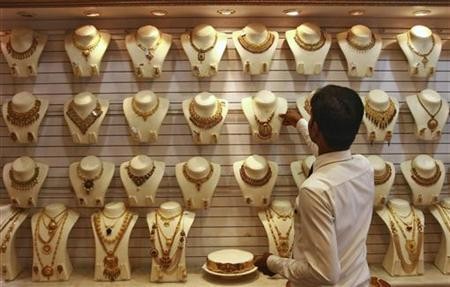 The jewellers and traders across India have geared up for the Akshaya Tritiya as the people are expected to throng the gold shops on Tuesday to purchase jewellery on the auspicious day.
Akshaya Tritiya is considered as one of the auspicious days to buy gold, silver, ornaments and lands in India. Buying valuable things on this day is touted to bring in never-ending prosperity and good luck to the people.
Cashing in on this belief in India, the yellow metal traders have announced various offers and other perks to attract the regular and unique customers to their shops every year. In view of Akshaya Tritiya, the traders have decided to keep their shops shutter open for business for extra hours as the gold sellers want to make the most out of the traditional day on Tuesday, April 24.
However, some jewellers projected uncertainty about huge sale this Akshaya Tritiya, while many vouched for a grand sale on Tuesday.
Srinivas.V, store in-charge at Bhima Jewellers, Bangalore said that trading of gold on Akshaya Tritiya has come down a bit since last two years owing to the surging prices of gold.
When asked about the sales prospect on this year's traditional gold buying day, Srinivas hinted at uncertainty considering the price factor.
"A section of People who believe inAkshaya Tritiya concept, buy the small gold coins and pendants forthe formalities. This is mainly in the case of walk in customers," Srinivas said.
"However, the upcoming marriage seasons will keep our counters engaged as many have already made bookings to buy gold on Akshaya Tritiya in advance for marriage," he added.
Prince Jewellery, Bangalore, Store Manager Vadivelan expressed confidence of having a good sale on Akshaya Tritiya. He said that customers may buy less grams of gold this year compared to last year but added that the difference in purchase in terms of billing is expected to be compensated by the surged in gold price.
Vadivelan said that not everyone in India belief in buying jewellery on Akshaya Tritiya. "Direct customers usually opt for small gold coins and other silver items. Meanwhile, we would also see our regular buyers stepping in for a good amount of purchase on this auspicious day."
"Meanwhile, the coinciding Indian wedding seasons have already got a slew of bookings reserved for Akshaya Tritiya on Tuesday. Soaring prices may not dampen Indian customers' interests to buy gold on this traditionally valuable day," he added.
Indian World Gold Council officials refused to comment when asked if high gold rates would affect the business on the day of Akshaya Tritiya.