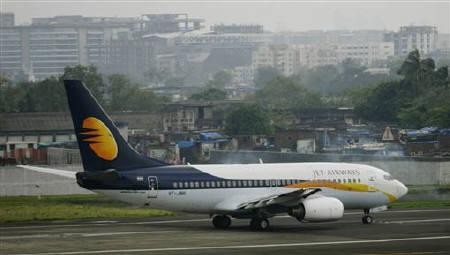 Jet Airways will begin massive expansions of its international operations owing to the escalating crisis in Kingfisher Airlines and Air India, according to the global aviation consultancy firm Centre for Asia Pacific Aviation (CAPA).
In a 2012-13 outlook report, CAPA has projected that the passenger carrier is likely to order around 100 narrow-body aircraft in the coming years.
"Jet Airways is expected to seize the opportunity and aggressively expand its international operations" the aviation think tank said according to the Economic Times.
CAPA, on its website, said that Jet Airways' fleet expansion strategy will meet the airline's "replacement and growth requirements" and that Jet will expand its European route network by leasing about 10 wide-body A-330s.
Jet Airways will consider Frankfurt and Munich as its top destinations, the website said. Beijing, Ho Chi Minh City, Shanghai, Amsterdam, Frankfurt, Munich, Paris and Rome, Chicago, San Francisco and Washington are amongst the other routes the carrier will include in its global expansion strategies. The Naresh Goyal-owned carrier is also projected to increase frequencies to existing routes.
The national carrier may also join Star Alliance thereby becoming the first Indian carrier to gain membership in the global airline network, according to the study.
Air India, which was denied entry into the alliance the previous year on failure to comply with the joining requirements, had in March 2012 given consent to Star Alliance for another national carrier to pursue membership.
"Air India's ongoing problems mean that this restriction makes even less sense than it did before and this may force the government to rethink its position.This would pave the way for Jet Airways to become the first Indian carrier to join a global alliance," CAPA said according to the Economic Times.
"Jet Airways has been the main beneficiary of the negative situation at Air India and Kingfisher. Despite the carrier's own weakness, it may decide to take advantage of the situation to expand both domestically and internationally as it had done in 1996 when a number of its competitors had closed down," the aviation body continued.
Meanwhile, CAPA estimated domestic capacity growth of 7-8 percent by 2013. A previous forecast put the Indian domestic traffic growth at 17 percent for 2011-2012 but the traffic growth was eventually lower at15 percent owing to massive job cuts in Kingfisher Airlines.