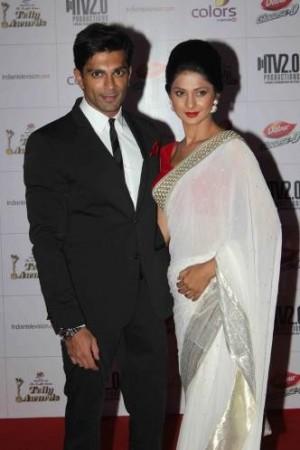 After television actress Jennifer Winger, now Karan Singh Grover revealed that the couple is indeed getting a divorce.
Karan, who is making his Bollywood debut with "Alone" opposite Bipasha Basu, remained tight-lipped when rumours about his troubled marriage were doing the rounds. However, the actor finally announced that it's over between him and Jennifer.
Karan posted a series of tweet on Tuesday and said that the decision was mutual, and the reasons are too personal to reveal.
"For all those who are concerned, you might have heard that Jennifer and I have separated and will soon be getting divorced. I just wanted to confirm that it's true. The decision has been mutually agreed upon and the reasons are too personal to share. What happens between only two people know…all else…merely speculations and assumptions…nothing more… this much I wanted to share…thank you always for all your love…(sic)," Karan posted on his Twitter handle.
Last month, Jennifer confirmed that they have officially parted ways. Her publicist in a statement said that the actress had requested for privacy at this stage.
"Jennifer is currently shooting for Kunal Kohli's film in London and has requested not to be disturbed. Jennifer has also requested for implicit privacy at this stage in her life," The Times of India quoted an official statement issued by the actress' publicist.
Karan and Jennifer did not reveal the reason behind their divorce, but according to rumours Karan's closeness to his "Alone" co-star Bipasha led to their split.
Bipasha and Karan were spotted at restaurants, theaters and several other places, which sparked the rumours that the two might be seeing each other.
Other reports suggest that Karan's philandering ways may have led to the couple's divorce.