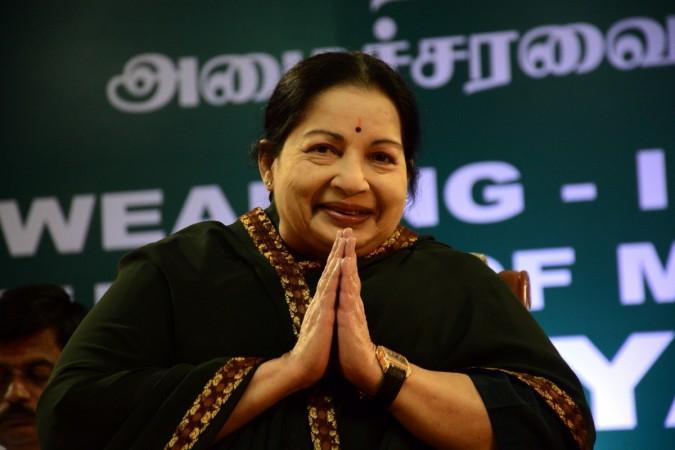 Tamil Nadu Chief Minister J Jayalalithaa on Sunday evening saw her health decline again, barely hours after her party said she had fully recovered, and just days after the doctors at Apollo Hospitals in Chennai gave her a clean bill of health and said she could return home soon.
The hospital later confirmed that she had suffered a cardiac arrest on Sunday evening, even as people began spreading rumours of her death. The hospital also said in a statement that the Tamil Nadu chief minister was undergoing fresh treatment at the hospital, and was being monitored by a specialised group of doctors, including cardiologists, pulmonologist and critical care specialists.
In a later statement, the hospital said she had been placed on extracorporeal membrane heart assist device -- or life support -- and was being treated by "a team of expert doctors and critical care specialists." It added: "Dr Richard Beale from London has also been consulted and he has concurred with the line of treatment by our cardiologists and pulmonologists."
Doctors from the All India Institute Of Medical Sciences (AIIMS) in Delhi were said to be preparing to rush to Chennai on Monday in order to provide their expertise in the treatment of the TN chief minister.
Meanwhile, all examinations under the Anna University scheduled for Monday have been put on hold, even as all classes under Madras University have been suspended.
Jayalalithaa will now certainly not be released from the hospital any time soon. Local reports claimed Jayalalithaa had been shifted back to the Critical Care Unit the cardiac arrest, and workers belonging to her party -- the All India Anna Dravida Munnetra Kazhagam (AIADMK) -- rushed to the hospital.
Local sources have said the heart attack could be the result of the hectic activity surrounding her at the hospital. She had had to undergo tracheotomy -- a tube was inserted via an incision in her throat into her trachea -- in order to enable her to breathe better. As a result, she had not been able to talk for days, and had only recently begun to speak, with some help.
Top leaders inquire after her health
Meanwhile, Union Home Minister Rajnath Singh spoke to Maharashtra Governor C Vidyasagar Rao, who holds the additional charge of TN, about Jayalalithaa's heart attack, and was apprised of her condition by him. Rao, who was out of station, arrived at the hospital in Chennai late on Sunday night. He left the hospital after a few minutes, without addressing the media. He was apparently not allowed to meet the TN chief minister.
Also on Sunday night, Union Home Minister JP Nadda spoke to Apollo Hospitals Chairman Dr PRathap C Reddy on Amma's health, and was apprised of the treatment she was being given.
Party had said she had recovered
The news of Jayalalithaa suffering a heart attack came barely hours after the AIADMK had said its chief had "fully recovered" from the ailment, and was ready to return home and resume political work.
In fact, while on her way to recovery, Jayalalithaa herself had said that she had been "reborn," thanks to the prayers of her party workers and supporters.
Security being beefed up as rumours of death swirl

Following reports that Jayalalithaa had suffered a cardiac arrest, AIADMK workers flocked to the Apollo Hospitals in droves, anxiously waiting for any word on her health. Given the situation the local authorities have beefed up security in the area in order to prevent any untoward event.
There are 300 policemen present in front of the hospital where Jayalalithaa is undergoing treatment. Their presence has been made necessary by the crowd gathered there resorting to violence. Subsequently, even Central Reserve Police Force (CRPF) personnel were deployed on the streets of Chennai.
Meanwhile, rumours seemed to fly thick and fast, with some suggesting she had already died. Someone had even made changes to the Wikipedia entry in her name, leading to further confusion and rumour-mongering.
The entry was soon removed from the Wikipedia page.
Niece snubbed
Jayalalithaa's niece Deepa -- her brother Jayakumar's daughter, who lives in the UK -- arrived at the Apollo Hospitals, but was apparently not allowed to see her ailing aunt. She told mediapersons she had been instructed not to speak to anyone regarding Jayalalithaa and her health condition.