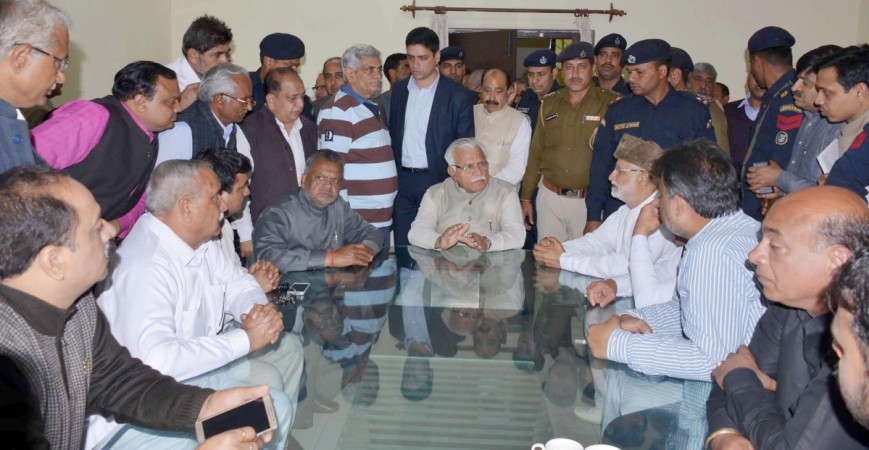 The toll in protest by the Jat community, seeking reservation under the Other Backward Classes (OBC) category in government jobs and educational institution, has reached 30, the Haryana Police reportedly said Friday. Of the 30 deceased, 13 were killed in the Jhajjar district, eight in Sonipat, five in Rohtak, two in Jind and one person each in the Kaithal and Hisar districts.
At least 200 people have also been injured in the nine-day-long agitation in about 10 districts of Haryana, Indo-Asian News Service quoted Director General of Police YP Singhal as saying. As many as 713 FIRs have been registered till Friday and 133 people taken into custody, he said.
Singhal said the Army would slowly start to withdraw. "Normalcy is fast returning to the state. All railway tracks and highways are functional. Anyone found to have indulged in arson, hatching a conspiracy or vandalism won't be spared," he said.
Alleged Murthal mass rapes
The Haryana government has appealed to the people of Sonepat district's Murthal village to assist the state police in the investigation into the alleged rape of at least 10 women near the national highway in the area.
The alleged incident was reported by Chandigarh-based daily the Tribune, which quoted eyewitnesses and locals. The state police had declared the report "false", but clothes were reportedly found on the ground near the alleged crime scene.
"We appeal to people to provide any information. We are very serious about the case...we will investigate and make sure that the guilty are punished... The clothes that have been found have been collected. We are trying to ascertain if a crime was committed," NDTV quoted Haryana Police chief Yash Pal Singal as saying.
The state police have tasked three policewomen with the job of taking complaints from the alleged victims, as no one has reportedly come forward with any complaint yet.
The Punjab and Haryana High Court Thursday took notice of the report and said it would refer the matter to the Acting Chief Justice for further action. Chief Minister ML Khattar has also initiated an inquiry into the alleged incident. "We will ensure there is no injustice," he said.
The Tribune reported Wednesday, quoting sources, as many as 30 protesters set fire to vehicles heading towards the National Capital Region (NCR) early Monday morning. The agitators also allegedly grabbed some of the women passengers, dragged them into fields, and raped them.