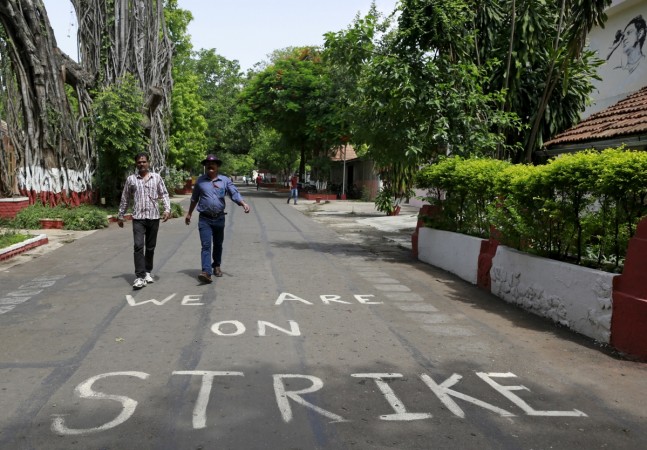 Opposition parties have called for countrywide protests on November 28 against the central government's "mishandling" of their decision to demonetise the currency notes of Rs 500 and Rs 1,000 effective from November 8 midnight. Only the Left Front has called for a 'Bharat Bandh' in West Bengal, Tripura and Kerala where they have a strong presence.
Most political parties have called for protests and not a Bharat Bandh. The Trinamool Congress, Aam Aadmi Party (AAP) and the Congress, which has called it Jan Aakrosh Diwas, have said that they would hold protests across the country but not call for a bandh as it would cause inconvenience to people.
"We are against a bandh. We will extend all support to any protest movement, any protest campaign, any public procession," Congress leader Jairam Ramesh was quoted by the Indian Express as saying. "But we are not in favour of and we certainly have not called for a Bharat bandh. We don't have to call a Bharat bandh because Bharat is already bandh from November 9 onwards. Narendra Modi has already shut down India. All economic activity has come to a halt..the rural areas, the agriculture sector, the unorganised sector, small and medium enterprises all have been closed down."
West Bengal Chief Minister and Trinamool Congress (TMC) chief Mamata Banerjee will hold a protest march in Kolkata at 1 pm on Monday. A turnout of over one lakh people is expected. Banerjee has been in the forefront of all protests by the Opposition against the note ban.

However, there has been no significant impact of the bandh in West Bengal, with schools, offices and factories remaining open.

Since the Left has a significant presence in Kerala, shops remain shut while public transport is off roads. Schools and colleges are also closed. Banks, tourists and their vehicles have been excluded from the bandh. The state is observing a 12-hour shutdown to protest against demonetisation.

Regular business in Tripura has come to a halt with government and private offices, banks, educational institutions, shops and business establishments shut due to the strike. All kinds of vehicles, except security forces, are off the road.

DMK leader MK Stalin, along with party workers, has been taken into preventive custody in Chennai, HT reported.

The Aam Aadmi Party will also stage a protest in Delhi's Central Park.

The BJP has organised a 'Jan Abhaar Divas' in Maharashtra to counter the Congress' Jan Aakrosh Diwas. They are offering sweets and flowers to people who are working on Monday.

CPI(ML) workers targeted the movement of trains in Bihar, HT reported. Trains, such as the Ganga Damodar Express and the Hatia Patna Express, were stranded at the Gaya station for almost four hours. Bandh supporters also took to the streets and appealed to shopkeepers to shut their shops.
Bihar Chief Minister Nitish Kumar will not be a part of any protest as he has publicly announced his support for Modi's decision to ban currency notes and said that this move would help fight against the menace of black money in the country.
Modi lashed out at the Opposition while addressing a rally at Kushinagar in Uttar Pradesh on Sunday, asking whether shutting down the entire country by calling a bandh was a better move than making efforts to end corruption.
The Congress hit back, saying: "Misinformation has been spread by the BJP which is ill-informed," adding that they had called for protests and not Bharat Bandh.
Kolkata: WB CM Mamata Banerjee takes part in TMC protest march #DeMonetisation pic.twitter.com/zWhWQcSea2

— ANI (@ANI_news) November 28, 2016
#DeMonetisation: Congress workers take out 'Jan Akrosh Rally' in Mumbai. pic.twitter.com/Uib32XxeoI — ANI (@ANI_news) November 28, 2016
Meeting of Opposition parties underway in Parliament #DeMonetisation #wintersession pic.twitter.com/SnxvS1jtGC

— ANI (@ANI_news) November 28, 2016
Left parties 12 hour bandh call: Bandh observed in Thiruvananthapuram #DeMonetisation pic.twitter.com/7INC0pP7uo — ANI (@ANI_news) November 28, 2016
Bihar: CPI(ML) workers in Darbhanga stop train in protest against #DeMonetisation (earlier visuals) pic.twitter.com/Aj7eqyrHzF

— ANI (@ANI_news) November 28, 2016
Chennai: DMK workers protest against #DeMonetisation pic.twitter.com/2Ot8ctDQoS — ANI (@ANI_news) November 28, 2016
The Opposition has been stalling proceedings in Parliament for a week, demanding that PM Modi explain his move. They have demanded that Modi apologise to the nation for causing inconvenience to the common man. They have also asked for a debate followed by a vote in the Lok Sabha. However, the government has refused to accept any of the demands made by the Opposition.
PM parliament ka saamna nahi kar rahe hain, doosre deshon mein jaakar bolte hain: Sitaram Yechury #DeMonetisation pic.twitter.com/GHiGMLatQP

— ANI (@ANI_news) November 28, 2016
Kolkata: TMC leaders and workers take out protest march #DeMonetisation pic.twitter.com/m16bttULQs — ANI (@ANI_news) November 28, 2016
Patna: Congress #janakroshdiwas rally against #DeMonetisation pic.twitter.com/JMaYpqaDqF

— ANI (@ANI_news) November 28, 2016