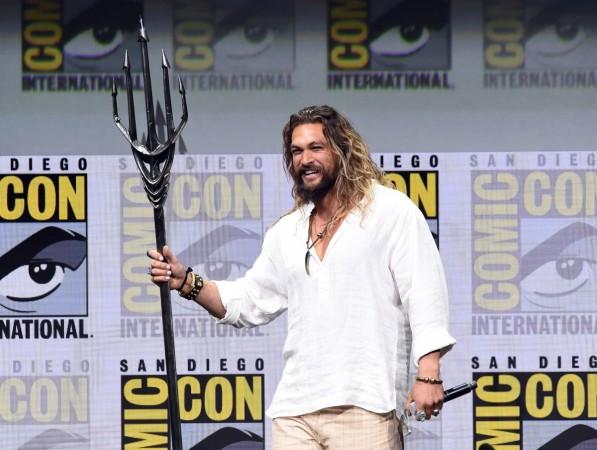 This weekend is crucial for DC fans as they will finally get the first official Aquaman trailer at the San Diego Comic Con 2018. And James Wan is teasing its release with a new picture from the editing room.
The Aquaman director recently took to his social media handles to reveal that he is adding some final touches to the trailer clip, which would feature Jason Momoa, Amber Heard, Nicole Kidman and more.
In the picture, it looks like Patrick Wilson's Ocean Master is bringing the waters and its creatures (a whale assuming from the whale's tail). But fans believe that it is Momoa given the trident is similar to the one seen in the comics.
The director shared the image with the caption, "Working overtime to put the finishing touches for this coming week!! Eeeeeee #SDCC2018." The full trailer will release on Saturday at the SDCC.
Following the release, fans are happy that Wan stayed true to the comics and brought the comic strip to life as seen in the books. This has definitely got everyone's expectations high.
The movie is due to release in December this year so fans were hoping the Aquaman trailer would release earlier this year. However Wan said that the trailer was delayed due to the CGI work.
He took to Twitter to explain, "I am simply not ready yet to share. This movie is filled to the gills with VFX, and the process is as slow and laborious as a sea-slug! Yes, even shots for the trailers take forever to do, and I refuse to put out anything that might be construed as subpar."
We'll know more about Aquaman's plot and tone during the DC's panel at the SDCC this weekend. But Momoa has already assured fans that it will be different from Justice League.
Speaking to Comicbook.com, he said, "Surpassing Justice League, this moment in time is his call to become king. The only thing that can save Atlantis is me fighting my own brother. There's a big battle, and there's an epic [fight]. It's also a big road movie, because we travel all over the world. It's got that Star Wars quality of gigantic ships and guys riding sharks. It's going to be this whole world you've never seen before. You're going to see him start as this guy who probably rides bikes, works on cars. You get to see him this one way as kind of a dirty, dark, drunkard, and then turn into this regal king.
Aquaman releases on December 21.