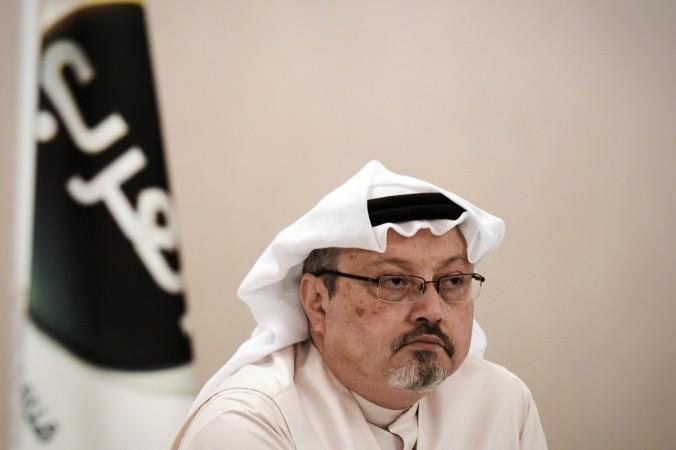 The cold-blooded murder of journalist Jamal Khashoggi sent shockwaves across the world. While many have accused Saudi Arabia of silencing one of its critics in the most brutal way, others have been mourning the death of a brilliant journalist. However, all these tags hardly matter to the slain scribe's sons because for them, he was first their father who is no more.
In a heartbreaking interview with CNN, Salah and Abdullah Khashoggi appealed for the return of their father's body and said that they wanted to bury Jamal with the rest of the family.
Salah, 35, and Abdullah, 33, remembered their father as a "courageous, generous and very brave" man and said that they have gone through tremendous pain since he disappeared at the Saudi consulate in Istanbul on October 2.
"I really hope that whatever happened wasn't painful for him, or it was quick. Or he had a peaceful death," an emotional Abdullah told CNN. The brothers also said that without Jamal's body, the family was unable to grieve and couldn't find a closure.
"All what we want right now is to bury him in Al-Baqi (cemetery) in Medina (Saudi Arabia) with the rest of his family," Salah added. "I talked about that with the Saudi authorities and I just hope that it happens soon." Salah had earlier met the Crown Prince and his father King Salman bin Abdulaziz and the scribe's stone-faced son was pictured shaking hands with the royals.
Speaking about the speculations around Jamal's death, Salah and Abdullah said that there were too many conjectures that have not just hurt the family — their two sisters and mother — but also could have distorted the truth. The duo also said that the journalist was often misunderstood and also misrepresented by people with a political agenda.
Calling him an "amazing" father and someone who was a genuine human being, Salah said: "Jamal was a moderate person. He was liked by everybody. He had differences and common values with everyone."
He also said that his father death was being politicised and added: "I see a lot of people coming out right now and trying to claim his legacy and unfortunately some of them are using that in a political way that we totally don't agree with."
The journalist, who was to marry fiancee Hatice Cengiz soon and had gone to the consulate to complete some paperwork, was often called a Muslim Brotherhood sympathiser and a dangerous Islamist by the Saudi crown prince when he spoke to US president Donald Trump's son-in-law and senior advisor Jared Kushner. But Jamal's sons have said that this was far from the truth and people did not really understand him.
"It's just labels and people not doing their homework properly, and reading his article and going in depth. It's easier to stick a label on him," Abdullah said during the CNN interview.
"Jamal was never a dissident. He believed in the monarchy that it is the thing that is keeping the country together. And he believed in the transformation that it is going through," Salah explained.
Speaking about how their father was as a journalist, the brother said Jamal was "like a rock and roll star. He was a public figure that was liked by everyone else."
Abdullah said the was the last child Jamal saw before his death. He had reportedly visited the journalist in Turkey and saw how happy he was with Cengiz. "He was happy. It was a very good opportunity for me to see him. We hung out in Istanbul, we had fun," Abdullah said. "I was really lucky to have last moment with him. I feel very grateful."
While the sons have now asked for Khashoggi's body, one cant help but wonder if their wish will be fulfilled. An aide to Turkish President Recep Tayyip Erdogan said on Friday that the journalist's body was dissolved in acid and that there may be no remains at all. "We now see that it wasn't just cut up, they got rid of the body by dissolving it," Yasin Aktay told the Hurriyet newspaper, according to the Agence France-Presse.
"According to the latest information we have, the reason they cut up the body is it was easier to dissolve it," the official added.