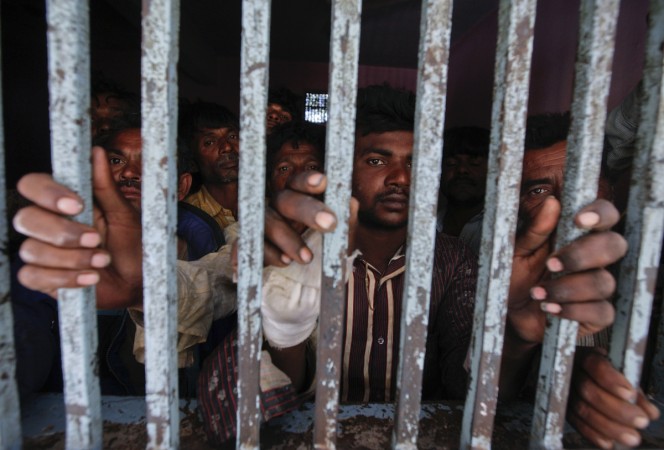 With overcrowding of nearly 150 per cent, Delhi and half a dozen states in India are neglecting the fundamental rights of undertrials and convicts, the Supreme Court said on Monday.
Calling the state of affairs, "not only tragic, but also pathetic", the Supreme Court bench led by Justice Madan B Lokur, in a judgment on a suo motu Public Interest Litigation (PIL), found that prisons in Delhi, Uttar Pradesh, Karnataka, Kerala, Maharashtra, Assam, Chhattisgarh, Jharkhand, Madhya Pradesh and Rajasthan are stuffed by over one-and-half times their permissible limits.
"Fundamental rights and human rights of people, however they may be placed, cannot be ignored only because of their adverse circumstances," the judgment observed while adding that "(it is) unfortunate that in spite of directions by the Court, the prison authorities have not been able to take any effective steps for reducing overcrowding in jails."
Instead of drafting a viable plan of action recommended according to repeated orders by the Supreme Court, prison authorities rely on ad hoc proposals like the construction of additional barracks or jails, and these proposals have no time limits for implementation.
The Court was also appalled to find out that the Ministry of Women and Child Development is yet to frame a manual for juveniles in custody under the recently amended Juvenile Justice (Care and Protection of Children) Act, 2015.
The Ministry has been directed by the apex court to get the manual ready by November 30.
It also ordered the Ministry of Home Affairs and set a deadline up to six months to figure out action plans for decongesting jails. The Supreme Court has more or less directed the government to hand over their action by March 31, 2017.
"We are a little distressed to note that even though this Court has held on several occasions that prisoners, both undertrials and convicts, have certain fundamental rights and human rights, little or no attention is being paid in this regard by the States and some Union Territories, including the National Capital Territory of Delhi," the judgment observed.