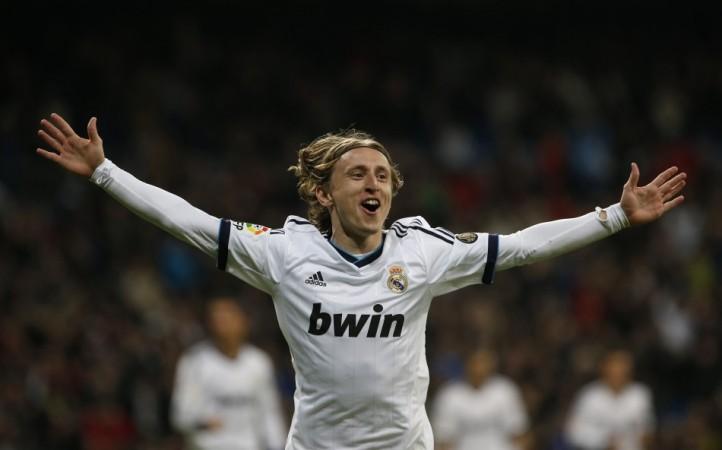 Croatia's World Cup football team captain Luka Modric is a legend in the making. Another win in just another game and he's is on a lofty pedestal that several of the game's great have failed to claim. Yet, the storied midfielder is a hated man in Croatia.
As the charismatic playmaker faces France in the greatest match of his career on Sunday, what are his chances of redemption? Will a cup-winning performance erase his moral deficit that upright Croatians have unhesitatingly bemoaned all these years? Will a goal or two against France make him a darling of the masses again?
Finally, will Croatians simply keep remembering, and keep saying "Luka, can you remember?" Or, will they forget the misdeeds and celebrate sporting heroics? Only time will tell.
Croatians disowned Modric after he dramatically changed his testimony against the country's biggest football tycoon in a corruption case that rocked the game. The case relates to the 2008 transfer of Modric from Croatian club Dinamo Zagreb. Zdravko Mamic, owner of the club and business tycoon, was accused of siphoning off a huge part of Modric's transfer fee to his own accounts.
Mamic, the real boss of the Croatian football federation and the most hated man in the country, however, received help from Modric and Croatian defender Dejan Lovren as the trial progressed. Though initially Modric had given a testimony that would have nailed Mamic, he changed it without batting an eyelid.
"That I've never said... that it... that... that it was drawn up afterwards ... I told you then that I couldn't remember when it had been done.." he said in the court.
Despite Modric crossing floors, the court handed a six-and-a-half year jail term for Mamic. The hated tycoon, who was once pushed into the sea by a passerby, went into hiding in the badlands of Bosnia.
And, severe backlash followed for Modric and Lovren. Modric soon became the second most hated man in the country after Mamic. Croatians, fed up with the filthy graft in a game that they worship, took the moral deviation from their superstar footballer as a final affront on the country's values.
Anti-Modric graffiti filled the streets. His murals on the walls were defaced. The Croatian No. 10 jerseys soon became a troll medium in stadiums with the words 'I can't remember' printed on them. Croatians denounced the country's World Cup bid. Dismayed fans even said they wanted the team to lose all their matches.
In March, even as the Croatian team was training for the World Cup, Croatia charged Modric with perjury over alleged false statements in court. That means Modric is all set to be tried soon after the Cup ends, and is on course to getting a maximum sentence of five years in jail if found guilty.
On Wednesday, Modric, Lovren and others buried English hopes to race past their previous World Cup best -- the semi-final berth in 1998. Davor Suker, the golden boot winner in 1998 who was instrumental in taking his country to its first ever world cup semi-final, is also a hated figure in Croatia because of his proximity to Mamic.
Sunday's final will not be just another football match for Luka Modric. And for Croatia. The tiny man, who came from a camp for the war refugees, is on the brink of creating history for his country. And thereby win a ticket to his own redemption.