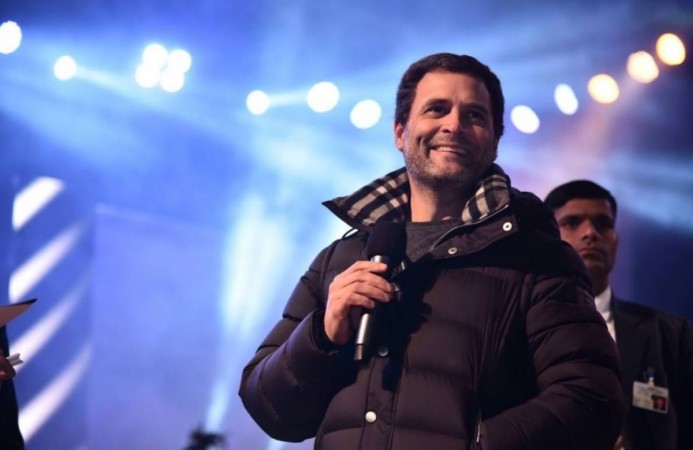 Remember when Congress president Rahul Gandhi took a "suit-boot" jibe at Prime Minister Narendra Modi? Now it's the Bharatiya Janata Party's (BJP) turn to take a potshot at him.
Dressed in blue denim trousers, a grey T-shirt and a black jacket, Rahul Gandhi looked dashing when he attended a concert in Meghalaya on Tuesday. But his attire soon caught BJP's and social media users' attention and the reason being the jacket.
The party has claimed that the Congress president wore a Burberry jacket that costs more than Rs 70,000. Rahul Gandhi also became the butt of jokes on Twitter for wearing the jacket.
"So @OfficeOfRG, soot(pun intended!)-boot ki sarkar with black money fleeced from Meghalaya State exchequer by rampant corruption? Instead of singing away our woes, you could have given a report card of your inefficient govt in Meghalaya! Your indifference mocks us!," the BJP's Meghalaya unit tweeted.
The tweet stating that the jacket was purchased with black money drew a comment from Congress leader Renuka Chowdhury. She said that BJP has no authority to question Gandhi and added that they are jealous of his growing popularity.
"Their frustration is directly proportionate to the rising popularity of Rahul Gandhi. Rahul Gandhi connects with the young. So, this idle and suit boot ki sarkar has no right to talk about it," she said.
"Those who wove own name on suit, do they have any moral authority to question Rahul Gandhi's jacket? How do they know the rate of the jacket? I will show the jacket can be bought at Rs 700. What will they say then?" she asked.
Politics over jacket
The politics over the jacket started because Gandhi had taken a jibe at Modi and called it a "suit-boot ka sarkar" (a government for corporates). For a meeting with former US president Barack Obama, Modi wore a suit that had his name in gold embroidery. The jacket was later auctioned for a whopping Rs 4.31 crore.
Twitter reactions
@OfficeOfRG You borrowed that jacket from me and forgot to return? It's cold in Bengaluru, I need the jacket. Return it to me ASAP. :) #BurberryJacket

— Charan (@iCherryy) February 1, 2018
If #RanukaChowdhury happen to send you a #BurberryJacket @Rs.700/- pls dont hesitate to share us. Me too want a piece for myself. I cant effort Rs. 70,000/- like #RahulGandhi.

— 'I am who I am' (@dobukgao) February 1, 2018
Pic 1: Fata kurta
Pic 2: Nikla hero @OfficeOfRG#BurberryJacket @TajinderBagga pic.twitter.com/WoC6oAGp7g

— Biswajit Roy (@biswajitroy2009) January 31, 2018
People are underestimating @OfficeOfRG 's abilities and simplicity..not only did he survive till now with the Rs.4000 he withdrew during demonetisation, he also saved enough from it to buy a $995 jacket.. #RahulKeAchheDin #RahulGandhi #RahulJacket

— VIPIN MENON (@vipinmenon211) January 31, 2018
If #RahulGandhi is wearing Rs 70000 worth jacket and it is from black money according to #BJP, then what is #Modi ji doing. Go, get him!!!
But didn't #Demonetisation remove all the black money?

— Fakendra Pulkistani (@chaiwala420) January 31, 2018
This is the almost 70,000 Rs worth of Burberry jacket that #RahulGandhi was spotted wearing @officeofRG is MP of #Amethi where average annual income is around 10,000 Rs per annum pic.twitter.com/JMvOiscXKd

— Ravi Kant (@LegalKant) January 31, 2018
#RahulGandhi says he borrowed the ₹70,000 jacket from his friend. Hope not like his family borrowed the surname from Gandhi ji...!! pic.twitter.com/UYhYhx02Bv

— Anshul Srivastava (@Anshul991) January 31, 2018
#RahulGandhi started with #SuitBootKiSarkar & ended with a Burberry jacket. If self goal is an art, our Pappu is #LionelMessi

— Arshit Pathak (@arshpath) January 31, 2018