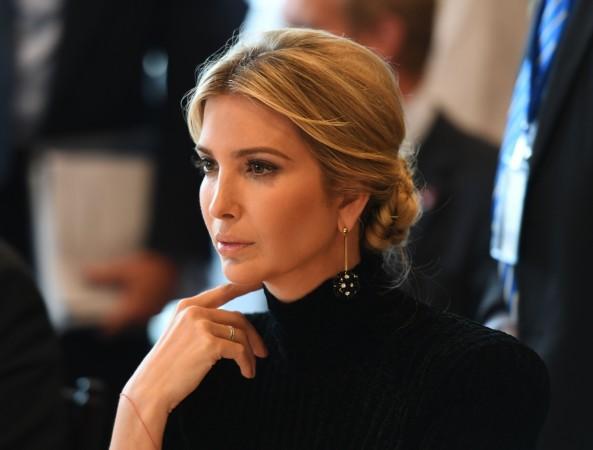 Ivanka Trump is often known to post pictures of her life and family on social media. She even has quite a fan following online but a photo, which was probably just another social media post for her, seems to have irked people across the world.
First daughter of the United States and senior advisor to father and US president Donald Trump, Ivanka took to Twitter and Instagram on Sunday, May 27, morning and posted an image of her snuggling her youngest son Theodore James Kushner. She captioned the image "My ♥! #SundayMorning."
While it was a nice picture, no doubt, Ivanka's timing was clearly wrong considering the Trump administration has been facing a massive backlash over the US government's policy of separating children of undocumented migrants from their parents.
Ivanka's image garnered widespread criticism and faced the wrath of social media users, who called her out for being insensitive and "tone deaf."
"This is so unbelievably tone deaf," Brian Klaas, a fellow at the London School of Economics and former Democratic strategist, said on Twitter. "Given that public outrage is growing over young kids being forcibly ripped from the arms of their parents at the border – a barbaric policy that Ivanka Trump is complicit in supporting."
The image received over 25,000 comments, in which Twitter users lashed out at Ivanka for the image, as well as, the Trump administration's inhumane policy. While a user said: "An actual mother would have compassion for the children harmed by your father's policies. Your contrived photo ops are absurd," another added: "How lucky that you get to do that with your children. Meanwhile, there are 1500 children that are missing their parents as a result of Daddy's orders. The fact that you and other so-called leaders have stood idly by and done nothing speaks volumes."
Another Twitter user called Ivanka "disgusting" and wrote: "You're part of a regime that is breaking up families, targeting minorities and losing kids. You're disgusting." And some users weren't subtle in saying what they thought and wrote: "#WhereAreTheChildren you clueless bi**h?
The outrage comes after Steven Wagner, a top official with the Department of Health and Human Services, said that about 1,500 children of illegal immigrants, separated from their parents and placed in sponsor homes, have gone missing.
He said that the Office of Refugee Resettlement tried to get in touch with 7,635 unaccompanied children to check how they were doing, but couldn't find about 1,500 of them, reported CNN.
After staying with the ORR, most of these children are sent to live with a sponsor, who more often than not have close ties with the children, mostly parents or close relatives. However, Wagner did admit that some may end up living with "other-than-close relatives or non-relatives."
If Wagner saying that the HHS had no clue of where these children were wasn't shocking enough, he went on to add that the department is not legally responsible for these kids.
Additionally, a spokesman for the Administration for Children and Families agreed with this concept and said: "When an unaccompanied alien child is placed with a sponsor, he or she ceases to be in the custody of the US government and all HHS-provided subsistence -- food, shelter, clothing, healthcare and education -- ends at that point and the child becomes the responsibility of his or her parent, guardian or sponsor."
Children of immigrants are being held in cages like animals at @ICEgov detention centers. Tell ICE and your elected officials that this is horrifyingly unacceptable. In addition to tearing children from their mothers arms- ICE has LOST 1500 kids. #WhereAreTheChildren pic.twitter.com/dMWRIgpRuQ

— Mia Farrow (@MiaFarrow) May 27, 2018
The White House believes that such separation is a deterrent to illegal immigration.
Since the revelation, hashtags #WhereAreTheChildren and #MissingChildren have been trending on Twitter.