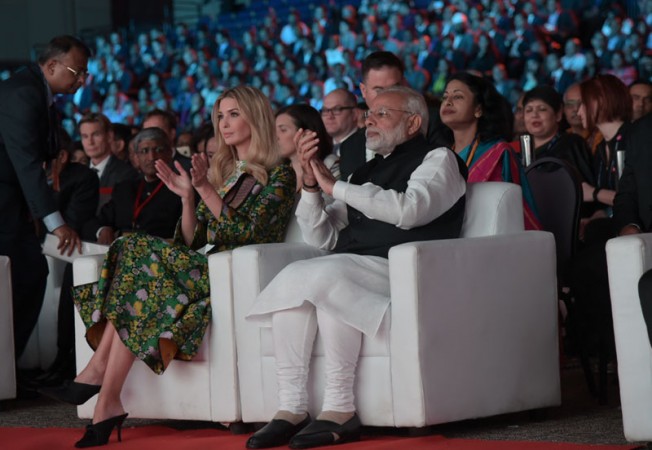 Ivanka Trump, daughter and advisor of United States President Donald Trump, is in Hyderabad, India leading the US delegation for the Global Entrepreneurship Summit (GES) 2017. Apart from official commitments, she has managed to do several other things as well during her 3-day visit.
Ivanka visited the Golkonda Fort and dined with Prime Minister Narendra Modi at the famous Falaknuma Palace.
While the dinner served as a great photo op for the advisor to Donald Trump and PM Modi, the arrangement has disappointed Najaf Ali Khan, the grandson of Mir Osman Ali Khan, the last Nizam. The reason: he and his family were not invited to attend the dinner.
Najaf Ali Khan said that he wrote several letters to Niti Aayog, the committee organising the summit but did not receive a response, NDTV reported.
"I, being the grandson of the erstwhile Royal Family, deserve an invite as the Palace is an important landmark both in our family's history and also in the history of Hyderabad," Najaf Ali Khan said in a statement.
The royal dinner:
Grand arrangements were made for the first daughter of US. A five-course menu which was inspired by Hyderabad's cuisine was reportedly part of the lavish dinner.
Popular Indian delicacies like dahi ke kebab, gosht shikampuri kebab, kubani ke malai kofta, murg pista ka salan and sitaphal kulfi. will be presented over several courses - Aghaz (soup), Waqfa (sorbet), Mezban (appetisers), Mashgool Dastarkhwan (main course) and Zauq e shahi (dessert), Hindustan Times reports.
Telangana chief minister K Chandrashekar Rao was one of the dignitaries present at the dinner.
Sight-seeing:
Before her royal dinner, Ivanka was scheduled to go to Charminar but the plan was changed due to security concerns. She was expected to explore the iconic Hyderabad monument and shop at nearby Laad Bazar, famous for bangles and semi-precious stones.
But plans were dropped because Charminar is a densely populated area, notorious for congestion and traffic jams.