While Padmavati is yet to be cleared by Censor Board and get a release date as protests by Rajput groups continue demanding its ban, British Certification Board has cleared the film for its official release on December 1 in the United Kingdom.
LATEST UPDATE: Sources say that Padmavati will not release in UK considering the fact that it might leak online.
BBFC (British Board Of Film Classification) has cleared Padmavati with no cuts and has certified it with 12 A. Check out the Twitter post on BBFC's official Twitter account.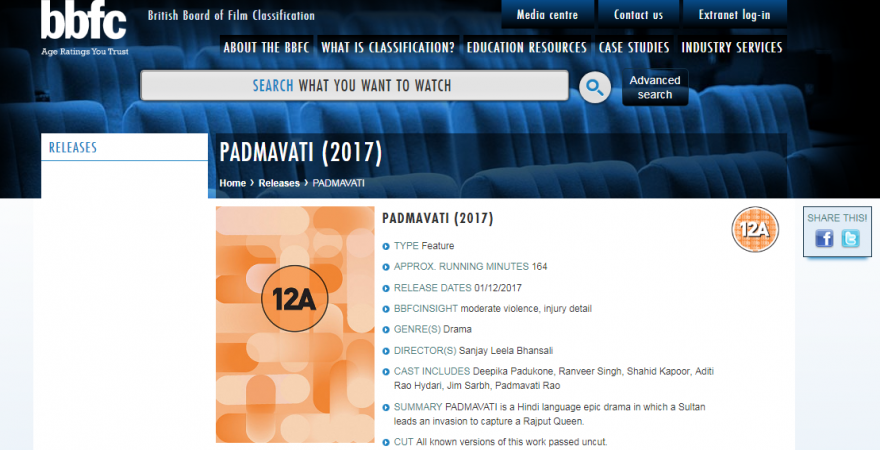 Gujarat also joined Madhya Pradesh in banning Sanjay Leela Bhansali's Bollywood film Padmavati as the Vishwa Hindu Parishad (VHP) backed protesters and said it will tell filmmakers to not hurt Hindu sentiments.
Gujarat chief minister Vijay Rupani told reporters: "There are issues with the film, our sympathy is with those who are protesting against it.... The decision was taken keeping in mind the law and order situation before elections next month in the state."
Earlier, foreign media also reported on Padmavati row. Below, it is listed which foreign news organisations reported about the controversy and what they wrote:
Washington Post: Indian ruling party member offers bounty for the beheading of Bollywood's biggest female star
It reported: "The violent reaction to the film's release further suggests a groundswell of conservatism in Modi's India. Often Hindu outrage is stoked by little more than rumors, including deadly riots and vigilante violence over false claims that Muslims were killing cows sacred to Hindu culture. But this time with the film, the reason for the outrage is even more puzzling."
New York Daily News: Indian politician calls for Bollywood actress, director to be beheaded, offers $1.5M bounty
In the report, it's mentioned: "An Indian politician belonging to a Hindu nationalist party has called for the beheading of a popular Bollywood actress and her director over a film that allegedly misinterprets a legend about a Hindu queen."
Daily Mail UK: Bounty offered for beheadings of Bollywood director, actress
BBC News: Padmavati: Why a Bollywood epic is facing fierce protests
What's one thing common in all of them? Everyone is surprised by the fact that there's a bounty on Deepika Padukone's head. Are we still living in the feudal age? The whole premise for the protesting groups is about the scenes that they believe to have been in the movie which they never even saw.