Indian Space Research Organization (ISRO) launched two satellites on Sunday through its Polar Satellite Launch Vehicle (PSLV-C42). The satellites named NovaSAR and S1-4 were launched from the Satish Dhawan Space Center (SDSC) SHAR, Sriharikota.
The PSLV-C42 lifted off from the First Launch Pad of SHAR at 10.08 pm (IST). The two satellites were infused into the Sun Synchronous Orbit, around 17 minutes after the launch, at the height of 583 km.
The satellites are from UK-based Surrey Satellite Technology Limited (SSTL), which has an agreement with Antrix Corporation Ltd, the business arm of ISRO.
NovaSAR carries S-band Synthetic Aperture Radar (SAR) and an Automatic Identification Receiver payloads. The satellites are used for service mapping, land and ice cover monitoring, disaster and flood monitoring, and oceanic missions. It will be worked from SSTL's Spacecraft Operations Center in Guildford, UK.
S1-4 is high-resolution earth observing satellite implied for studying landscapes and resources, environment monitoring, urban management, and weather monitoring.
The PSLV launch vehicle comprises of four parts, every one of which is independently equipped for working freely with their own propulsion systems.
Preparations started at Sriharikota in mid-July with vehicle integration to set up the launch. Many ISRO centers contributed to this mission with the vehicle being created and designed Vikram Sarabhai Space Center, Thiruvananthapuram.
ISRO Chairman Dr. K Sivan complimented the group soon after the mission conducted in the night time for the first time in its history.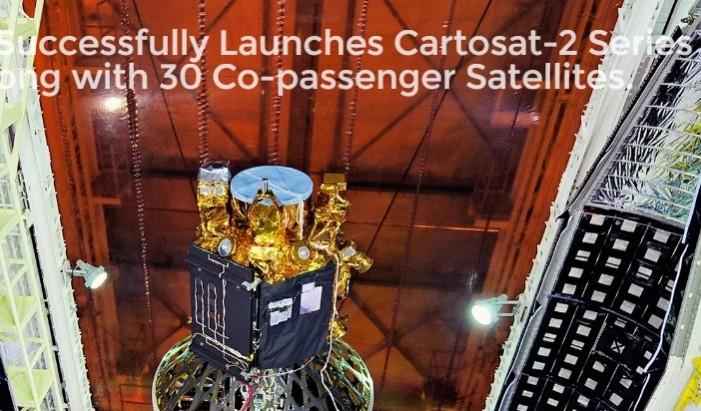 "I am extremely happy that the PSLV-C42 precisely launched two of our customer satellites at 583 km orbit. This was unique night mission executed for the first time by us. The PSLV has proven yet again as a user-friendly vehicle in all aspects. The credit goes to the entire ISRO team and industries. This success will give added energy for industries to make PSLV by themselves. We are going to have 18 missions in the next six months, virtually one launch every two weeks," he said.
"The budget for space exploration in India is significantly low, however, for the number of skilled scientists India has, they do a good job at "copying existing space technology and adapting it for its own needs," he told Reuters.
ISRO has launched 239 foreign satellites for 28 countries so far.