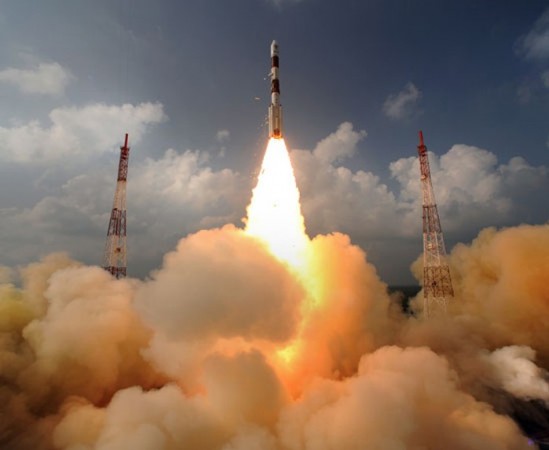 The Indian Space Research Organisation (ISRO) launched PSLV's longest flight, the SCATSAT-1, along with eight satellites aimed at conducting ocean and weather studies at 9:12 am from the launch pad at Sriharikota in Andhra Pradesh on Monday.
The rocket, which weighs 320 tonnes, is carrying five foreign and three Indian satellites. The launch is the space organisation's longest mission to be completed within two hours and 15 minutes. Also, it is the first time PSLV will be launching satellites into two different orbits.
The rocket placed the Indian weather satellite SCATSAT-1 into a polar sun synchronous orbit at an altitude of 730 km after exactly 17 minutes of the launch. The seven other satellites were successfuly separated and placed into the polar orbit from an altitude of 689 km after restarting the rocket's engine twice. The rocket's engine, which is also the fourth stage, will be shut down after putting SCATSAT-1 into orbit.
The SCATSAT-1, the mission life of which is five years, is a continuity mission for Oceansat-2 scatterometer and carries a Ku-band scatterometer similar to the one put on board the Oceansat-2, ISRO said in a statement. The satellite will provide wind vector data products for weather forecasting, cyclone detection and tracking services to the users.
"Based on the actual signals from SCATSAT-1, we have confirmed that solar panels and antenna mechanism have deployed. Now, satellite's various control systems are satisfactorily going on. In a week's time, it'll be operating in radiometer mode," ISRO Chairman AS Kiran Kumar told reporters at a press conference in Sriharikota.
The five foreign satellites include three from Algeria and one each from Canada and the United States. The three Algerian satellites — Alsat-1B (103 kg), Alsat-2B (117 kg) and Alsat-1N (7 kg) — are for observation of the earth while the Canadian satellite NLS-19 (8 kg) aims to analyse and reduce space debris. The US satellite Pathfinder (44 kg) is an earth-imaging microsatellite.
Pratham (10 kg), one of the Indian satellites built by students of the Indian Institute of Technology – Bombay (IIT-Bombay), will study the total electron count in space. The other satellite, PISAT (5.25 kg), built by the students of PES University in Bengaluru will take photographs of the earth.
SCATSAT-1, which costs about Rs 120 crore, will help weather scientists forecast the formation of cyclones and monitor their land fall.
The ISRO chairman added that "the next launch for us is on October 4th, this is a communication satellite GSAT-18. We are working on our GSLV Mark-3, towards the end of this year we intend to realise this launch."
Meanwhile, Prime Minister Narendra Modi congratulated ISRO for the successful launch in a series of tweets.
Moment of immense joy & pride for India. Congratulations to @isro on successful launch of PSLV-C35/SCATSAT-1 & 7 co-passenger satellites.

— Narendra Modi (@narendramodi) September 26, 2016
Our space scientists keep scripting history. Their innovative zeal has touched the lives of 125 crore Indians & made India proud worldwide. — Narendra Modi (@narendramodi) September 26, 2016
Congrats @isro for setting another example of space cooperation by launching US, Canada, Algeria satellites together with its own satellite.

— Narendra Modi (@narendramodi) September 26, 2016
Congratulations to our promising & talented students of @iitbombay, who created the Pratham satellite that was launched today. — Narendra Modi (@narendramodi) September 26, 2016
I applaud the industrious & innovative students of @PESUniversity, Bengaluru for creating the PiSat that was launched successfully today.

— Narendra Modi (@narendramodi) September 26, 2016
#WATCH ISRO successfully launches PSLV'S longest flight with SCATSAT-1 & other 7 satellites on board pic.twitter.com/8Kp1eazSr2

— ANI (@ANI_news) September 26, 2016