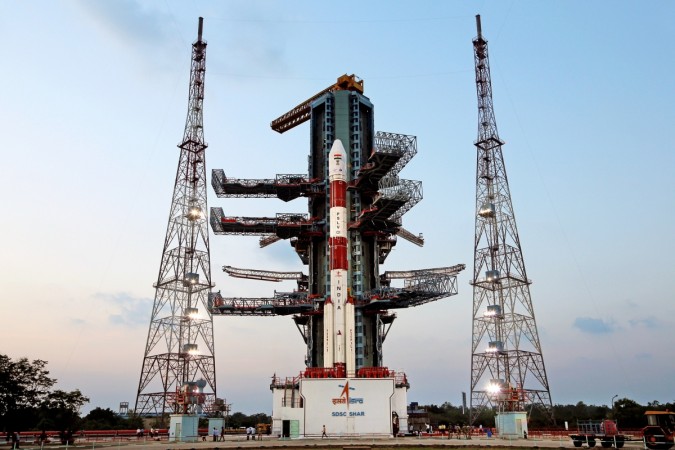 UPDATE: 19:53 p.m. IST — India's satellite telecast regional navigation system will be called NavIC, said Prime Minister Narendra Modi on Thursday after the launch of IRNSS-1G. It was the seventh and the final satellite in the series of Indian Regional Navigation Satellite System (IRNSS).
"The world will know it as Navic.... The new technology will benefit our people, our fishermen. This is a great gift to people from scientists," Modi said. He added: "With this successful launch, we will determine our own paths powered by our technology."
NavIC stands for Navigation Indian Constellation, according to ISRO.
UPDATE: 12:53 p.m. IST —The Indian Space Research Organisation (ISRO) launched the seventh and last navigation satellite of the Indian Regional Navigation Satellite System (IRNSS) — IRNSS-1G — on Thursday afternoon from Sriharikota in Andhra Pradesh.
The launch of IRNSS-1G can be watched live on ISRO website.
#WATCH ISRO launches IRNSS-1G to complete India's own navigational satellite system from Sriharikota.https://t.co/yZfB01lLsU

— ANI (@ANI_news) April 28, 2016
Original Story —
The Indian Space Research Organisation (ISRO) on Tuesday morning began the countdown for the launch of the seventh and final navigation satellite of the Indian Regional Navigation Satellite System (IRNSS) from Sriharikota in Andhra Pradesh.
The 51:30 hours countdown is set to end at 12:50 p.m. on Thursday when IRNSS-1G on board Polar Satellite Launch Vehicle (PSLV) rocket — PSLV-C33 — will blast off from the launch pad at the Satish Dhawan Space Centre (SDSC).
"The countdown started at 9:20am. The rocket PSLV-XL (polar satellite launch vehicle) will blast off from the first launch pad at 12:50pm on April 28," Indo-Asian News Service quoted SDSC director P Kunhikrishnan as saying.
IRNSS-1G has a lift-off mass of 1425 kg and carries two types of payloads – navigation payload and ranging payload, explains ISRO.
The seventh satellite will complete the Space Segment — India's regional navigation system on par with United States' Global Positioning System (GPS) that provides location and time details accurately to everyone around the world.
However, unlike GPS, India's system will provide accurate location and time to the Standard Positioning Service (SPS) users in India, using the SPS within the geographical boundary of India and a little beyond that.
The satellite's solar panels, which consist of Ultra Triple Junction solar cells, have the capacity to generate about 1660 Watts of electric power. "IRNSS-1G will be launched into a sub Geosynchronous Transfer Orbit (sub-GTO) with a 284 km perigee (nearest point to Earth) and 20,657 km apogee (farthest point to Earth) with an inclination of 17.86 deg with respect to the equatorial plane," ISRO elaborates.
"After injection into this preliminary orbit, the two solar panels of IRNSS-1G are automatically deployed in quick succession and the Master Control Facility (MCF) at Hassan [in Karnataka] takes control of the satellite and performs the initial orbit raising manoeuvre at perigee and apogee," it adds.
The entire satellite-navigation system will work with two navigation bases — Space Segment and Ground Segment. The seven satellites in the Space Segment would send the location and time information to a chain of ground segments located at 21 different locations in India. The ISRO Navigation Centre in Karnataka's Byalalu area will operate as the headquarter.
The ISRO launched IRNSS-1A, 1B, 1C, 1D, 1E and 1F in July 2013, April 2014, October 2014, March 2015, January 2016 and March 2016, respectively. Out of the seven satellites, three have been positioned in geostationary orbit, while four others, including IRNSS-1G, is a part of geosynchronous orbit.