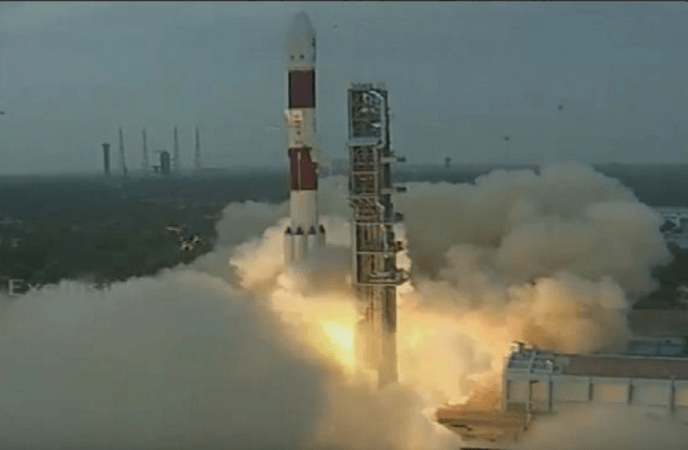 The Indian Space Research Organisation (ISRO) set a world record on Wednesday morning when it launched 104 satellites on-board a single rocket from the Satish Dhawan Space Centre at Sriharikota, Andhra Pradesh.
Also read: Isro set to create record on Feb 15 with launch of 104 satellites in one mission
The PSLV launched the CARTOSAT-2 Series satellite, which weighs 714 kg, and then injected 103 co-passenger satellites, which weighed 663 kg at lift-off into polar Sun Synchronous Orbit, about 520 km from Earth.
The CARTOSAT-2 series includes international payloads. Among the satellites, 96 belong to the US, one each belongs to Israel, Kazakhstan, Netherlands, Switzerland and United Arab Emirates. Two of India's nano satellites, weighing about 30 kg, will also be part of the launch.
10:07 am IST: CARTOSAT 2 to enhance remote sensing abilities of India.
10:04 am IST: Prime Minister congratulates ISRO for successful launch.
10:00 am IST: India makes world record by launching 104 satellites in space.
9:59 am IST: Antarctica Ground Station receiving information from PSLV.
9:55 am IST: Antarctica Ground Station to soon track PSLV. It will give information about nano satellite separations.
9:49 am IST: Sriharikota waiting to get information from Antarctica Ground Station for Earth Observation Satellites (AGEOS), at Bharati Station, Larsemann Hills, Antarctica.
9:48 am IST: Eight nano satellites separated.
9:47 am IST: Connection with Mauritius ground station lost.
9:46 am IST: CARTOSAT, two ISRO nano satellites separated.
9:44 am IST: PSLV has been in air for 16 minutes.
9:41 am IST: 115 bodies to be separated from the PSLV.
9:37 am IST: Performance of 4th stage normal at +7 minutes.
9:37 am IST: Third stage separated.
9:35 am IST: PSLV being tracked by Mauritius ground station.
9:33 am IST: Launch reaches stage 3.
9:32 am IST: PSLV reaches height of 200 km.
9:30 am IST: First stage functioning on its own. Strap ons have separated.
9:28 am IST: India launches PSLV C- 37 Series from Sriharikota.
9:28 am IST: Minus 15 seconds to launch.
9:25 am IST: At lift off, four strap-ons will be ignited.
9:24 am IST: Three minutes to launch.
9:17 am IST: Launch sequence of CARTOSAT 2 series initiated.
9:13 am IST: Mission Director authorises launch.
9:12 am IST: Mission Director to authorise the launch soon.
9:11 am IST: Launch of PSLV-C37/Cartosat -2 Series Satellite is scheduled to be launched on Wednesday, February 15, 2017 @ 9.28 Hrs IST from Sriharikota.