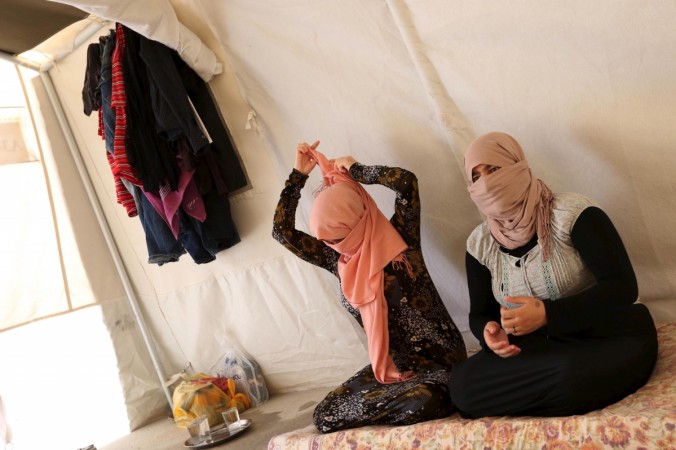 The Islamic State group (Isis) has been selling girls as young as 12 years old as sex slaves through encrypted messaging apps like Telegram and Whatsapp. The founders of both apps have repeatedly maintained that end-to-end encryption provides privacy to its users.
According to the Associated Press, one such advertisement said, "Virgin. Beautiful. 12 years old.... Her price has reached $12,500 and she will be sold soon." The ad for the sex slave appeared along with other ads for weapons, kittens and tactical gear.
"We have zero tolerance for this type of behaviour and disable accounts when provided with evidence of activity that violates our terms. We encourage people to use our reporting tools if they encounter this type of behaviour," Matt Steinfeld, a spokesman for WhatsApp, told AP.
Telegram's spokesperson said that they remove public IS channels from the app.
Perhaps the worst blow related to such instances was felt by the Yazidi community when Daesh took over Sinjar, Iraq in 2014, with as many as 3,000 of their women and children being held captive.
Isis has been maintaining detailed records of the women and children as it does of its fighters. The database of the slaves is reportedly shared with all checkpoints to make sure that they don't escape, AP reported.
While organisations working to protect the Yazidis were earlier able to save on an average 134 people a month, the number has fallen to 39 in the last six weeks, as Daesh has amped up its hold over the people and the Kurdish government is running out of money to save the captives. The government earlier used to compensate Yazidi families, who had to pay up to $15,000 to save their family members.
One such sex slave, the 18-year-old Yazidi girl Lamiya Aji Bashar, escaped after attempting to flee at least four times. She was blinded after a landmine blew up near her as she was trying to escape. Her companions, 8-year-old Almas and Katherine, 20, were killed in the explosion.
Lamiya was repeatedly raped by multiple IS members, one of whom was a doctor. Speaking to the news agency, the teenager said that she would have fled even if she was rendered blind in both eyes.
Another escapee, Nadia Mourad, had appeared before the U.S. Congress and the European Parliament seeking aid for the ailing community, which had once numbered in 50,000. Their population count is not known since Isis began its offensive.
The Yazidi people in Iraq are used not only as sex slaves, but also as human shields. NGOs working to rescue the people in captivity lament that despite victory over Fallujah or Ramadi, the girls are nowhere to be found when the terrorist group retreats.